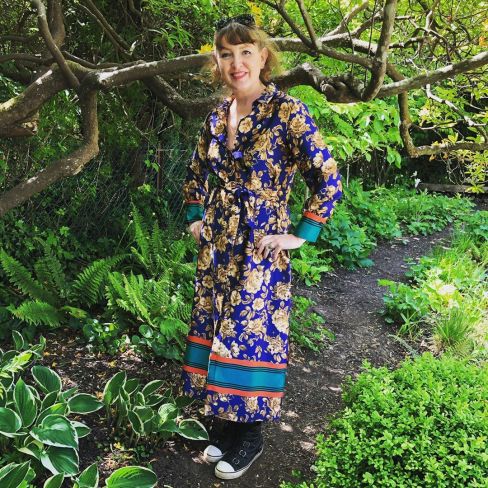 Alone and scared at the start of lockdown, Greenfingers Charity Patron, Ann-Marie Powell needed something to hold on to and something that would give hope in the midst of a pandemic.
Turning to her much neglected garden, Ann-Marie decided to use the time that lockdown provided to transform it, and to share the trials and tribulations of doing so with gardeners new and old through a daily Instagram live show from her own account @myrealgarden. She hoped her successes (and failures!) might help others who were also suddenly thrown into disarray.
She said: "Here's the thing - I'm a well-known garden designer and TV presenter, so I was unsure about revealing the true state my little plot of land – would its dishevelled condition lead to my professional ruin, or through gardening would I find what I was looking for? Without fail I appeared LIVE, every day, at 12.30pm, for 100 days over the lockdown. At first, I felt nervous, shy and unsure of what I was doing and why (not to mention having to get to grips with Instagram's tech!), but I was soon to discover that connecting with other gardeners was to be my silver lining through the most difficult of times. Right away I found that there was a hunger for real, fun and unfiltered advice (I seriously can't help telling people how it is for me!!!). Being joined by regular viewers each lunchtime, my lockdown was brightened MASSIVELY by their company - their support, their mutual love of all things plants and gardening, and their virtual but very real friendship. Suddenly My Real Garden was getting us all through AS A COMMUNITY OF SHARING GARDENERS."
A book like no other gardening book...
To celebrate this growing community and the lifeline that gardening gives all, Ann-Marie decided to create a book, that would see real gardens being shared with an audience right across the world.
Members of the community were invited to submit photos, tips, favourite plants and gardening thoughts. The response was phenomenal. The book will feature advice from hundreds of real gardeners from all walks of life, all corners of the globe, and with all sorts of gardens.
Speaking about the book, Ann-Marie said "I believe that such a collaboration of real gardening knowledge, and the joy that it brings, has never been published before. So, to make this magical book happen we need your support. The book will be 208 pages packed with tips, hacks, failures, and floral fabulousness. It will not only inspire all gardeners on all budgets but we will also be donating some of the proceeds to the UK charity Greenfingers. They create beautiful, well-designed gardens for children to enjoy precious time together with their family, friends and siblings in children's hospices. The more books we can presell, the more help we can provide to this wonderful charity. I hope that you will want to be part of this growing community, one that has turned the trauma of lockdown into something immensely positive, by pre-ordering your copy of our book now, so that we can #passthepassion."
So how can you help?
As followers of the @myrealgarden community couldn't do this on its own, Ann-Marie enlisted the help friend and former 'The English Garden' editor, the wonderful Tamsin Westhorpe, to collate and edit the community's words into a volume to be proud of.
Together they are committed to producing a beautiful book to treasure. It will be a full colour, maximum joy, advice-packed 208 pages loaded with feature gardens, tips, hacks, failures, and floral fabulousness from hundreds of gardeners around the world.
The final size will measure roughly 25 x 19 cms and be printed on lush 100 gsm silk paper.
They are ready to go but need your help! A minimum of 1000 pre-order sales will secure enough money to publish. And, should sales top that at 1001, 1002, or even more, the book will then start supporting Greenfingers. The more they sell, the more money will be raised to support the valuable work of the charity.
If you would like to help, you can pre-order your copy here: https://www.indiegogo.com/project/preview/4e88c69c