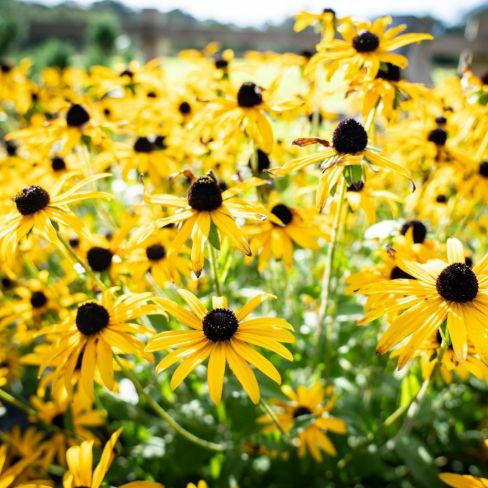 Following Hospice Care Week, there is no better time to announce that the Greenfingers Charity has completed its 59th and 60th garden projects at the Little Harbour Children's Hospice (St Austell, Cornwall) and Rainbows Hospice for Children & Young People (East Midlands) respectively. These two stunning garden spaces will provide the residents, families and staff of both to enjoy some time away from the hustle and bustle of the hospice, whilst also providing quiet places of reflection to remember those who have lost their brave fight against illness.
Garden 59 – Children's Hospice South West's Little Harbour, St Austell, Cornwall This stunning all-weather garden has been transformed under the expert eye of local award-winning garden designer, Darren Hawkes. Cornwall-based, Darren draws his inspiration from the landscape that surrounds him and his designs have a harmonious feel to them. He says "I love the relationship between plants and hard materials. The opportunity to highlight shapes both in foliage and form as well as in colour is one that I relish". This is most certainly felt within the garden, especially with the stunning garden shelter which is the centrepiece of the design.
Made from galvanised steel and standing adjacent to the curving path, the garden shelter rises out of the lush planting to give a sense of enclosure. Coloured panels adorn the shelter, which provides increased privacy, to catch the light for an almost kaleidoscope experience. Open on two sides, the shelter has been designed to be big enough to allow bed-bound residents the chance to get outside and enjoy some time in the garden.
Elsewhere in this new garden there is a rich palette of plants, with colourful blooms contrasting against soft grasses that will catch the Cornish wind and create a calming and natural soundtrack to the garden. The garden is all about maximising the sensory experience – from beautiful scents, colours and light that catch the eye, to a space to sit and enjoy the fresh air, or to feel the breeze gently caressing your skin.
Claire Kilbey, Head of Care at Little Harbour children's hospice, said "We take just as much pride in the outside space we have at Little Harbour as we do the facilities that we have inside. Children and families really enjoy exploring our gardens and benefit on many levels from the time they spend outdoors. To have this additional space and structure, which makes it possible for even the most poorly of children to experience some time outdoors in a safe but stimulating environment, is fantastic."
Linda Petrons, Director of Fundraising & Communications at Greenfingers Charity, said: "From the very beginning we knew Darren's vision would be truly spectacular and the reality has far exceeded our expectations. This is a truly stunning garden, and we will forever be grateful to all those that helped to make it a reality."
Garden 60 – Rainbows Hospice for Children and Young People This beautiful garden was designed by VaRa Garden Design and built by the landscape team at Alfresco Landscaping. Together they have respectfully refreshed the Hospice's Remembrance Garden incorporating a new area to offer more space for families and staff to come to remember lost loved ones. New paths have been added which create a journey through the whole space, as well as trees and seating which will help to create quiet corners for peaceful reflection. Year-round planting and sculptural elements, along with a soothing water feature all add to the garden's quiet peace for visitors whatever the season.
The largest addition to the garden is a stunning steel tree. Created by local metal company, Caltef Designs, this bespoke memorial tree allows bereaved families to create and hang a unique personalised glass memorial leaf to commemorate their loved one. This incredibly unique tree provides a beautiful new focal point in the centre of the garden, providing an ongoing heart to this special place.
Talking about the garden project, Vanessa and Rachel from VaRa Garden Design said: "We hope that the Remembrance Garden continues to provide a peaceful, natural space for bereaved families to find solace in their time of need; designed to reflect the ongoing and outstanding care that Rainbows Hospice provides. It has been such a privilege to work alongside the hospice's amazing staff and to help to continue the fantastic work done by Greenfingers Charity - such a rewarding project and a real team effort for a very important cause''
Rainbows' Psychological and Bereavement Lead, David Hamilton, added: "We had a very distinct vision for how we wanted the garden to look, and the preservation of the existing memorial was of the utmost importance. The teams from VaRa, Alfresco, Caltef and the Greenfingers Charity have been able to make this vision become reality in the most incredible way. The new garden space combines moments of pure beauty and places of quiet reflection with a rich tapestry of memories woven into every corner. It's truly an honour to call this garden part of Rainbows Hospice."
In addition to the teams at VaRa, Alfresco Landscaping and Caltef Designs, Greenfingers would also like to thank the other kind supporters and donors who helped make this new garden a reality, including Lynne Jackson - a local glass artist who works with families to make their child's memorial leaf, as well as Crowders, Seagrave Nurseries, Evergreen Garden Care, Primrose, Ryan Blacker of Vetoquinol, Karen Gimson, and all the participants of the annual Garden Re-Leaf event.
Linda Petrons, Director of Fundraising & Communications at Greenfingers Charity, said: "We are so pleased to be able to officially handover the new garden to the team at Rainbows Hospice for Children and Young people. The garden was already full of precious memories and it was so important that these were maintained. The new design has certainly achieved this, enhancing the space to provide more places to sit, remember and celebrate the lives of those that have called the hospice home. It's a beautiful space which we know will provide comfort to many families now and into the future."