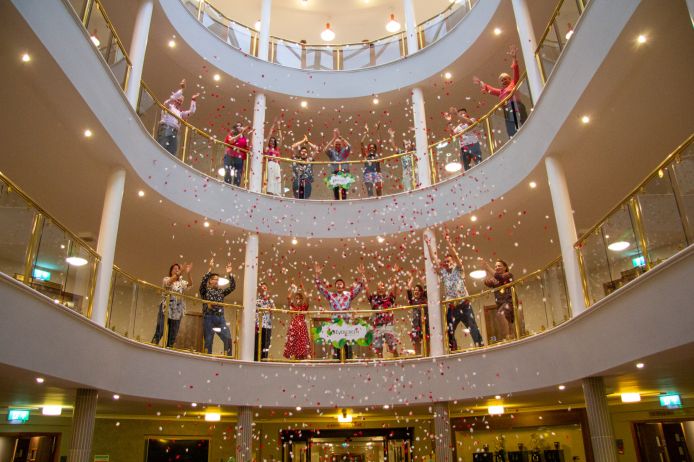 The Greenfingers Charity welcomes support from all corners of the garden retail sector, with many retailers and suppliers pulling together to help raise much needed funds. One such supplier is Evergreen Garden Care, which has once again dug deep to help Greenfingers build even more treasured garden spaces at children's hospices across the country.
Floral Friday
Those that visited Glee in 2019 may remember the Evergreen team donned some rather funky floral suits to help celebrate the very first Floral day in aid of Greenfingers. Since then the team has continued to engage with this fundraising social media event, this year raising over £500 from staff donations in the process.
Product donations
When it came to supporting Greenfingers with product the Evergreen team has not held back and has been a pivotal part of the creation of Greenfingers' 60th garden at Rainbows Hospice for Children and Young People in Loughborough, providing huge amounts of its bestselling Miracle-Gro® compost to help the new planting scheme take hold. Designed by VaRa Garden Design and supported by the landscape team at Alfresco Landscaping, this new garden will provide a peaceful space which families can visit, reflect and remember lost loved ones. The redesigned existing footprint includes sensitive expansion plans including new areas of interest and more places for families and staff to come together.
Charity partnership
If this wasn't enough, Evergreen Garden Care has also donated £3,000 to Greenfingers as part of its charity partnership which was officially launched at Glee 2019. This partnership sees Evergreen commit its ongoing support to Greenfingers for three years, through fundraising activities and product donations, including promotion of the partnership on all Miracle-Gro® compost packs, helping raise further awareness of the charity amongst consumers.
Fast forward 12 months and this relationship continues to strengthen as Evergreen Garden Care's Managing Director, Mark Portman, explains: "We wanted to work with the Greenfingers Charity as there are real synergies between the work they do and our passion for helping people to unlock their love for gardening, and creating green oasis – as the events of recent months have proven tenfold! Since we launched our new partnership we have been able to get involved in a number of different aspects of support, all of which have pulled the Evergreen team together in a really significant way, whether though fundraising activities or by seeing the Greenfingers funded hospice gardens come together, and learning what these spaces mean to patients, families and staff. We still have two years of our partnership ahead of us and are really looking forward to what we can achieve together. It's an honour to be involved."
Linda Petrons, Director of Fundraising & Communications at Greenfingers, added: "We'd like extend our endless gratitude to the Evergreen Garden Care team for its ongoing support. Their combined efforts have not only helped to raise much needed funds which enable us to continue to build gardens around the country but having such a well-known brand publicly supporting us helps to spread our message far and wide and increases vital charitable donations."