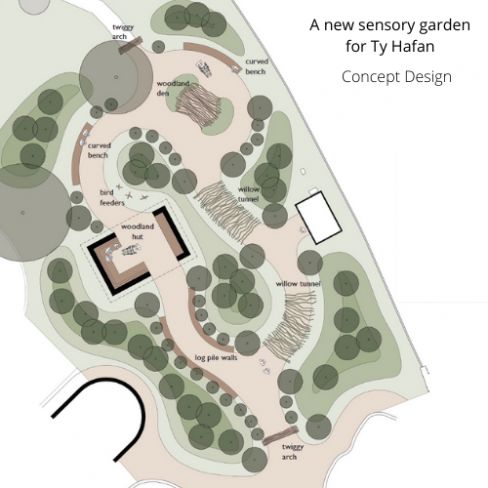 We are delighted to be working with the team from Tŷ Hafan, one of the UK's leading paediatric palliative care charities which offers care to children and support for their families, throughout Wales.
They say "If you think this means we simply provide a place where children can come to die, you couldn't be further from the truth".
This inspiring hospice offers comfort, care and support to life-limited children, young people and their families in the hospice, in the community and in their home so they can make the most of the time they have left together. They allow parents and carers to relax and recharge their batteries and they make sure the needs of brothers and sisters are never forgotten.
With children and families at the heart of everything they do, we were delighted to be asked to help the hospice to create a garden which would be a real treat, as well as a feast, for all the senses. A garden that will stimulate the mind and body and a garden that will enable life-limited children to maximise their potential and enjoy the time they have left together as families and friends. Many of the children who use the hospice facility are wheelchair bound and sensory therapy provides much needed stimulation .
The serene and tranquil nature of the garden will enhance the hospice, making it more attractive and even less foreboding to those that visit and who might be considering accepting an offer of care. The new garden will be an interactive, therapeutic social space, designed for everyone; hospice children, their families, bereaved families and hospice staff and volunteers: And the garden will provide a tranquil, contemplative space for families as well as providing a stimulating and fun place for the children and their siblings to interact in safety.
We are thrilled to be working with RHS Gold Medal Winning Garden Designers, Victoria and Joe Wade who shared their initial concept design for the new garden, with us and the team at Ty Hafan earlier this week. Although there is still a way to go, we look forward to this wonderful new garden come to life in 2021.