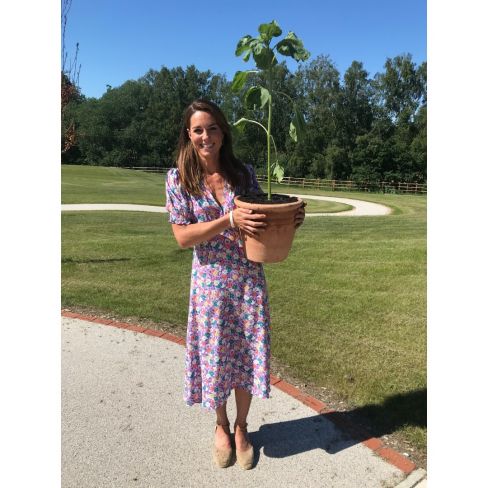 In a move to promote Children's Hospice Week, the Duchess of Cambridge was seen pictured visiting her local Fakenham Garden Centre and last week dug deep, getting her hands dirty while she helped to create a new garden at The Nook, run by East Anglia's Children's Hospices (EACH), in Norfolk.
A grieving family ­heartbroken by the loss of a young boy, inspired a special tribute from the Duchess of Cambridge who gave the Delf family a sunflower in memory of their son Fraser, who died from a rare genetic condition.
Her Royal Highness, 38, was so moved by the story of nine-year-old Fraser Delf that she gave a sunflower in his memory. The blooms, the symbol of hospice care, was the favourite of Fraser, who sadly passed away earlier this year.
What a great Ambassador the Duchess is for gardening. What a great Ambassador she is for children's hospices and their gardens. Just like Greenfingers Charity that for the last 21 years has been creating therapeutic and peaceful gardens for the thousands of life-limited children and families that regularly make visits or spend time in these caring, peaceful yet vibrant havens for so many.
Having previously worked with EACH, Greenfingers Charity is delighted to be working with The Nook where it will be designing an holistic imaginative space with areas for play, sensory experiences and private areas for relaxation and reflection.
This new garden will support the many hundreds of life-limited children and families that spend time at this wonderful hospice which was opened by the Duchess just last year.
The team at Greenfingers Charity is also looking forward to bringing more hospice gardens to life in 2020 and 2021.
As well as The Nook, other hospices on their waiting list include:
Rainbows Hospice for Children and Young People in Loughborough supports children and young people suffering from life-limiting conditions throughout six Midland counties. VaRa Garden Design, along with the landscape team Alfresco, will extend and update the hospices memory garden. Work here is due to start in just a few weeks' time.
Haven House in Woodford Green, Essex, a nurse-led hospice for babies, children and young people under 19 who have life-limiting or life-threatening conditions. Thanks to award winning designer Tom Hoblyn, a new reflection garden will be created within a stunning woodland space.
St Oswald's Hospice in Newcastle provides care for babies, children and young adults across the North East of England in their relaxed and 'home-from-home' environment. The hospice has asked Greenfingers Charity to create an all-inclusive play garden which is fun for children with complex disabilities and their siblings and peers.