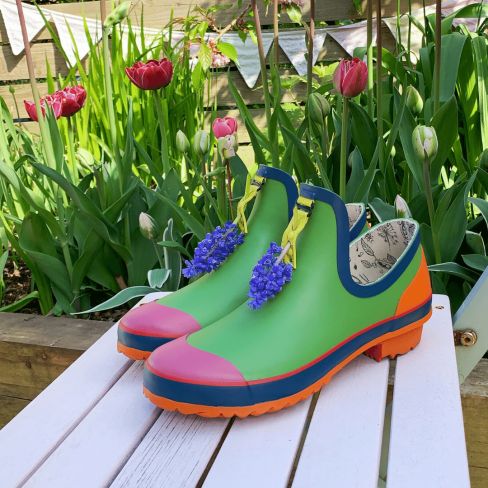 Started by sisters Vanessa and Justine in early 2019, Poddy & Black is the modern woman's answer to stylish footwear for the garden. Frustrated by the lack of choice, the sisters decided it was time to start a brand that gives confident creative women the opportunity to express themselves and have some fun - even when its muddy or raining!
The young business currently offers 4 styles with cheeky names ( the Clever Clog, the Bossy Boot, the Stubborn Mule and the iconic Half Cut) . Made of natural rubber and lined with recycled cotton, delivered to the customer in fully recycled packaging the footwear is also kinder to the environment than many other products in this category. The boots are made like traditional wellington boots and really are tough enough to do digging and gardening in.
"We launched our brand at various gardening and flower shows in summer 2019 and people are always amazed by how comfortable the boots are when they try them on" says Justine, adding that customers often walk off the stand with some flowers attached to the unique Poddy accessory which allows you to customise your boots according to your mood and the season.
The sisters have tried really hard to make the boots as low impact as possible and so a collaboration with a charity that focuses on gardening and health was an obvious choice. They have dedicated The Half Cut style in the multi coloured option to the charity for this year, donating £5 per pair for every pair sold.
"We are super proud to be accepted as a corporate sponsor at Greenfingers Charity as we know their work makes such a difference to people's lives" says Vanessa.
To find out more or to make a stylish purchase, click here.