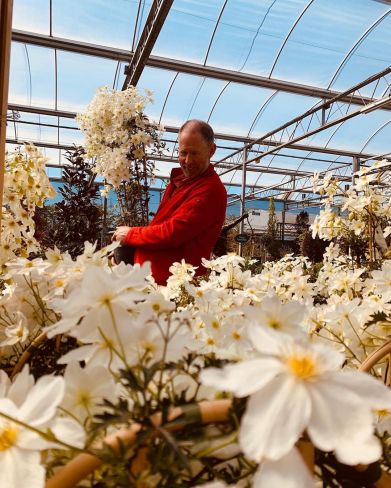 May Day saw a record number of leading garden centres and suppliers get involved in #FloralFriday, a Greenfingers Charity initiative to help keep the charity and the horticultural industry in the hearts and minds of garden lovers across the country.
Joining the fun of #FloralFriday, the charity was delighted to see its Patrons David Domoney and Ann-Marie Powell along with Guy Topping, Adam Taylor, Matthew Bent, Bridgman Furniture, GIMA, LOFA, Glee and many others posting floral pictures or selfies on Instagram, Twitter, Facebook and LinkedIn, and pledging their support.
Director of Fundraising and Communications, Linda Petrons said: "We really can't thank our supporters enough for embracing #FloralFriday. The campaign is working as we are starting to see more people take part and a few more enquiries coming our way. Please please carry on supporting, posting your pictures and spreading the word – as soon as we can get back on-site and building Greenfingers gardens, your help now will help to make a difference in the future."
Greenfingers Charity would love to see more businesses and individuals take part in #FloralFriday.
Here's a reminder of what you need to do…
Post your favourite floral image or floral selfie on social media
Use the hashtags #FloralFriday #hortindustry #greenfingers
Tag @GreenfingersCharity
Make a donation by texting FLORALFRIDAY to 70085 to donate £5 or FLORALFRIDAYTEN to 70085 to donate £10
Nominate a friend(s) to do the same
For more information about #FloralFriday or other ways you can support Greenfingers Charity, you can get in touch with Linda by emailing Linda@greenfingerscharity.org.uk or calling 07908 221240. She would love to hear from you.