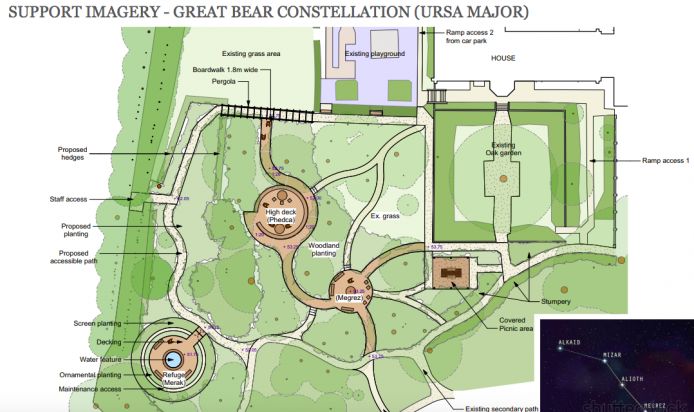 We were delighted to receive the wonderful concept designs in preparation for the new Garden of Reflection at Haven House Hospice from Thomas Hoblyn this week. Haven House is situated in Woodford Green, Essex and is a nurse-led hospice, providing round-the-clock care, 365 days a year for babies, children and young people under the age of 19 who have life-limiting or life-threatening conditions.
The hospice has asked for our help to create a reflection garden that will be used by life-limited children, their siblings and parents as well as the hospice staff. The garden will be "a place to escape to" and the new designs are based on the Great Bear Constellation, Ursa Major. We're very excited to be able to share a sneak peek of them with you here. They feature a lush and relaxing green planting scheme, long boardwalks suitable for wheelchair access, flowing through the woodland landscape, a seating area accessible for all, and features adding a sensory element including a pergola and a stumpery area.
Haven House is a busy hospice, offering a fully holistic range of services including Hospice at Home, physiotherapy, music therapy, therapeutic yoga, a Teenage Cancer Group, coffee mornings, a Dad's group, a 'Buddies' sibling support group and a toy home loan. They also offer extensive post-bereavement care, including counselling, one-to-one sibling support and an annual memory day, for as long as their families need them. We can't wait to be able to build them a new garden in which to relax and reflect.
We hope the garden, which is being funded by Clarins UK, will become a reality later this year.