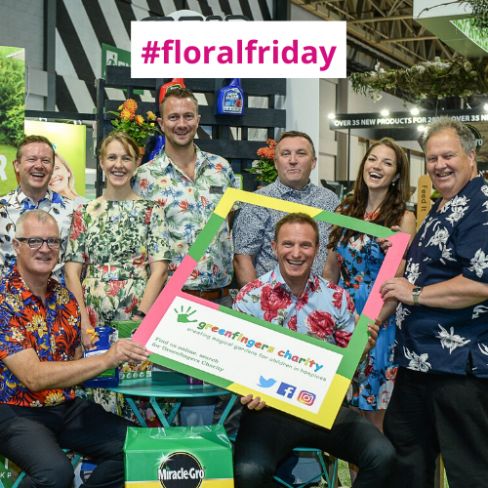 Greenfingers Charity and friends bring a little social media cheer on #floralfriday
Following the success of #floralthursday at Glee last year, Friday 3rd April 2020 saw the start of a new social media campaign, #floralfriday which aims to support the gardening industry and its favourite charity, Greenfingers.
Thanks so much to everyone who has got involved with this new initiative so far and we have enjoyed seeing all your pictures which we will continue to post up on our website here.
The campaign, which evolved as the day went on, was kicked off by Greenfingers Charity Trustee, Boyd Douglas Davies. Hundreds of businesses and individuals, including Evergreen Garden Care and Greenfingers Chairman Sue Allen and Patrons Ann-Marie Powell and David Domoney joined in the conversation, which proved to be a great way to engage with garden lovers right across the industry and the UK.
It was great to see so many pledging their support for the horticultural industry, as well as the thousands of life-limited children, families, nurses and the wider hospice communities who benefit from spending time in the many Greenfingers Charity gardens in children's hospices right across the UK.
If you didn't take part last Friday, the good news is that #floralfriday will run throughout April and beyond. We'd love your support to get the nation going floral. Here's how you can join in…
On your favourite social media platforms simply:
1. Post a photo of yourself in your favourite floral shirt, dress, hat, shoes, tie, pjs or similar (or your favourite floral photo).
2. Use the hashtags #floralfriday #hortindustry #greenfingers and tag us in so we can see you.
3. Nominate a friend to do the same.
4. Send this story on to your friends, family and colleagues while they are "working at home".
5. If you're a business, add this story into your customer communications so that your customers can get some floral cheer too!
6. You, and those you nominate, can also donate by:
Texting FLORALFRIDAY to 70085 to donate £5 or by texting FLORALFRIDAYTEN to 70085 to donate £10
Speaking about #floralfriday, Director of Fundraising and Communications, Linda Petrons said; "I would like to say a huge thank you on behalf of us all at Greenfingers Charity to all those amazing industry friends and many others who, despite these very difficult times, quickly rallied round and supported our first #floralfriday. We're looking forward to doing it all over again on Good Friday and in the weeks and hopefully months ahead."