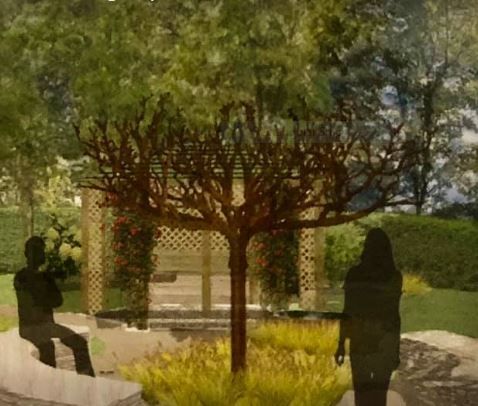 Greenfingers Charity has now built 58 gardens in children's hospices nationwide since it was founded 20 years ago. Now we have five new hospice gardens in the planning stages, to be completed in 2020 and beyond. These new gardens will provide even more life-limited children, their families and hospice staff with an outside space in which to relax and reflect or in which to create precious memories. Here the charity reveals more in-depth details as to these exciting garden plans.
Rainbow House – Loughborough
Rainbow House in Loughborough supports children and young people suffering from life-limiting conditions through the provision of end-of-life care, symptom management, short breaks and respite care. Presently Rainbow House is the only hospice to service the East Midlands region including Leicestershire, Derbyshire, Nottinghamshire, Rutland, Northamptonshire and Lincolnshire.
The hospice currently possesses a garden including a special Remembrance Garden, and it is this area which will benefit from an update under the expert and creative eye of VaRa Garden Design.
At the heart of this new Remembrance Garden will be a special Memory Tree. Made by a local artist, this steel tree will take centre stage and will be adorned with coloured glass leaves etched with the names of those to be remembered. The light reflecting off the leaves, coupled with the wind gently blowing them, will provide a truly stunning sensory experience, one that will be enjoyed even on the darkest of winter days.
With the Memory Tree at its heart, the wider Remembrance Garden will be sensitively updated, ensuring the existing memorials are retained. The area is set to grow, and the team at VaRa are keen to connect it to a rejuvenated wider garden space.
A new journey through the garden will be introduced, making it easier for wheelchairs and hospital beds to be navigated through the whole garden, where a year-round planting scheme will add colour and scent. Also finding a home in the garden will be a new water feature and water table for interactive play, as well as a range of sculptures to add depth and definition to the garden space.
The Nook – Norfolk
East Anglia's Children Hospice's (EACH) newest site The Nook – officially opened by HRH, The Duchess of Cambridge in 2019 - could soon become Greenfingers' flagship garden project. Representative of one of the largest garden projects the charity has ever undertaken, The Nook's three-acre site will benefit from Greenfingers' support over the next few years as different areas of the garden are completed. Linda Petrons, Greenfingers' Head of Fundraising and Communications, explains: "The Nook is a superb site that has so much potential. It's a really exciting prospect. We'll be using a more holistic approach to The Nook, working with the team to design the entire outside garden space, providing designs that can be implemented over the coming years. Within the design, we shall be funding a small garden space, which we are hoping to complete by the end of 2021. It's a very exciting long-term project."
St Oswald's Hospice – Newcastle
St Oswald's Hospice in Newcastle provides care for babies, children and young adults with progressive, life-shortening conditions from across the North East. Their team of skilled staff provides residential short breaks to local families. Up to six children and young adults can stay at any one time in their relaxed, home-from-home environment. Here they can enjoy a range of fun activities such as sensory play, music therapy, arts and crafts, baking, trips out and complementary therapy. The hospice reached out to Greenfingers to help to create an all-inclusive play garden which is fun for children with complex disabilities, as well as their siblings and peers.
Designed by Greenfingers' very own Garden Project Manager, Holly Harrington, Holly has designed a fun and interactive play area which includes accessible play equipment. The existing summerhouse will be rejuvenated and complemented with new seating areas and a stunning willow wall will add impact and interesting architectural lines. The area will also be extended so it will become visible from the main living room area within the hospice, so children and families can enjoy the space from the comfort of the indoors.
Speaking about her first Greenfingers garden design project, Holly said: "I am excited to help St Oswald's gain the garden that it deserves. The garden will be designed to be accessible to all, and will combine quiet places of contemplation and reflection, with areas of fun and memory making. I can't wait to get onsite and to start seeing it take shape."
Ty Hafan - Vale of Glamorgan
Ty Hafan in the Vale of Glamorgan, is one of the UK's leading paediatric palliative care services, offering care to children and support for their families, throughout Wales. The team here offer comfort, care and support to life-limited children, young people and their families in the hospice, in the community and in their home so they can make the most of the time they have left together.
A new sensory garden will be set right atop the cliffs, providing uninterrupted views of the sea. Located alongside the new playground area and the existing counselling hut, the sensory garden will be a more natural setting, focusing more on enjoying the elements such as the lapping waves and sea salt freshness that will drift up and wrap themselves around this area.
Whether as a place to enjoy a moment of calm away from the hustle and bustle of the hospice, or as a place to come to remember lost loved ones, this new sensory garden is desperately needed by the hospice.
Haven House - Woodford Green, Essex
Haven House in Woodford Green, Essex, is a nurse-led hospice for babies, children and young people under 19 who have life-limiting or life-threatening conditions. They provide round-the-clock care, 365 days a year, to the children and their families, and have asked the Greenfingers Charity to help create a 'place to escape to' for the patients, families and friends, as well as the staffing team.
Happy to respond to the Haven House request, Greenfingers has confirmed that it will be working with award-winning RHS Chelsea designer, Tom Hoblyn, to create a stunning Garden of Reflection. The garden will also be funded by Clarins UK, the world-renowned premium skincare brand, which has selected Greenfingers as its charity of choice for 2020.
Located on the edge of the Epping Forest, the new Haven House garden will cover an area of 200 – 300m2 and will include a rich tapestry of mature trees to add real depth to the garden.
Linda Petrons, Greenfingers' Director of Fundraising and Communications said: "2020 is set to be another big year in regard to the gardens we complete, and none of this would be possible if it wasn't for the amazing ongoing fundraising support we receive from so many wonderful individuals, groups and buisnesses. On behalf of all the children, families, friends and staff that will use one of these new gardens – thank you. From the bottom of our hearts, thank you. Our work creating magical gardens for children's hospices really does make a very real difference to so many."