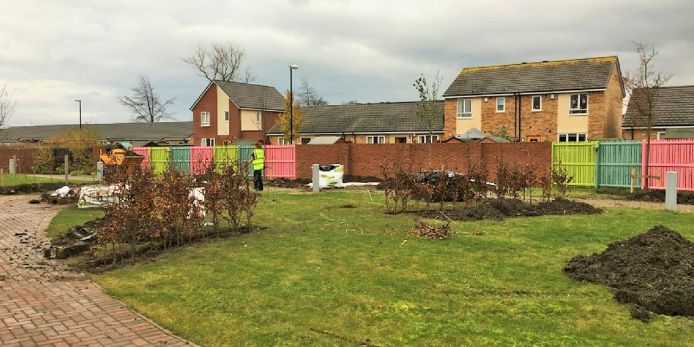 Greenfingers are currently working with Grace House in Sunderland on an exciting design for a new family and children's garden designed by Sean Murray, the winner of the BBCs RHS Chelsea Challenge in 2015.
Grace House is a new-build hospice in Sunderland which caters for a broad range of children and their families. Greenfingers is working with Grace House to transform the main garden area next to the children's bedrooms at the hospice into a family garden for play, relaxation and contemplation.
The 'Nest & Rest' garden design created by Sean Murray will transform the existing space into a magical collection of nest-like spaces where the children can enjoy the outdoors and feel protected and nurtured whilst playing and having fun.
Late last year the Greenfingers team began work on the first phase of the new garden build by planting the trees which will provide part of the structure of the new garden. Once the trees have had a couple more months to establish themselves we will look forward to entering the next phase of the garden build which we hope to finish entirely later this Summer.
The garden is one the largest projects Greenfingers are currently working on and as such, it will provide a complete transformation of the existing garden space at the Hospice.
The images below document the initial stages of the garden from the design to the tree planting last year. We look forward to sharing the progress of the garden build with you over the coming months.