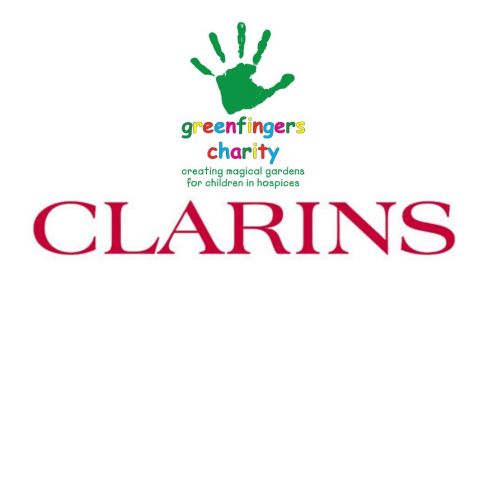 Greenfingers Charity is thrilled to announce that 2020 sees a new new charity partnership with the world-renowned premium skincare company, Clarins UK, after the company selected Greenfingers as its chosen charity for the year ahead.
This new partnership came about after Clarins UK looked to work with a charity that could truly capture the hearts and minds of its staff, as well as one that offered direct synergies with Clarins UK's plant-based ranges. With a 20-year history that has seen the charity create 58 magical hospice gardens, it was easy to see why Greenfingers was selected.
Starting as an initial one-year partnership, Clarins UK kickstarted proceedings with a company donation that will fund the Garden of Reflection at Haven House Hospice in Woodford Green, Essex. Designed by award-winning garden designer, Tom Hoblyn, this new hospice garden, will provide families and children who spend time at the hospice with a peaceful area in which to escape the rigors of indoor hospice care.
Clarins UK will also be supporting Greenfingers Charity through a range of other fundraising activities such as the Terracycle Scheme, which gives back to charity for every product donated for recycling, with Clarins UK actively encouraging customers to use the scheme to recycle packaging. The Clarins UK team is also poised to undertake a number of fundraising and volunteering opportunities across the year, as well as at the build of the Haven House garden amongst other activities.
Shoshana Gillis, PR Director at Clarins UK, said: "At Clarins UK we are passionate about giving back and doing what we can to make a positive impact upon others. It is this ethos that underpins our charity partnerships and with Greenfingers we feel we can really help to make a difference. We're also keen to be involved in this change, so whether it's getting our hands dirty in a hospice garden or helping to raise awareness via our own in-house fundraising and awareness activities, we are very excited about what can be achieved."
Linda Petrons, Greenfingers' Director of Fundraising and Communications added: "On behalf of everyone at Greenfingers Charity I'd like to officially welcome Clarins UK onboard. They are truly a significant brand to be partnered with and I have no doubts that their involvement with us throughout 2020 will have a hugely positive impact not only upon Greenfingers Charity but also the hospices we're working with this year. I'm really excited to see what can be achieved. Roll on the rest of the year!"
More about Clarins UK
Clarins is a family owned French Skin Care and Make-up company. The brand was founded in 1954 by Jacques Courtin-Clarins and today, headed by his sons Christian and Olivier. Jacques Courtin-Clarins interest in healing began as a medical student but his studies were interrupted by the war. After the war he decided to pursue a career as a physiotherapist specialising in massage and while practising physiotherapy he discovered that his female patients not only saw an improvement in their medical condition but also in the cosmetic appearance of their skin. And it was their enthusiasm which inspired him to diversify into the field of beauty therapy, open his own beauty salon and formulate his own massage oils based on pure plant extracts. As Jacques Courtin-Clarins' reputation grew and his clients' enthusiasm for his oils increased, he responded to their demands by formulating a long list of skin care and make-up products.
Clarins unique philosophy is defined by their expertise in plants, respect for biodiversity and their ability to harness the power of science and nature together, distilling their expertise into every single one of their formulations and professional massage techniques to deliver efficient results, combined with a focus on restoring inner balance and wellbeing. Today, Clarins is the number 1 premium skin care company in the UK for the twenty second year running and this success is sustained by an unrestricted budget for development to allow us to continuously grow, learn, listen, and follow wherever the latest science leads us. For more information contact Shoshana Gillis, PR Director shoshana.gillis@clarins.com. www.clarins.com