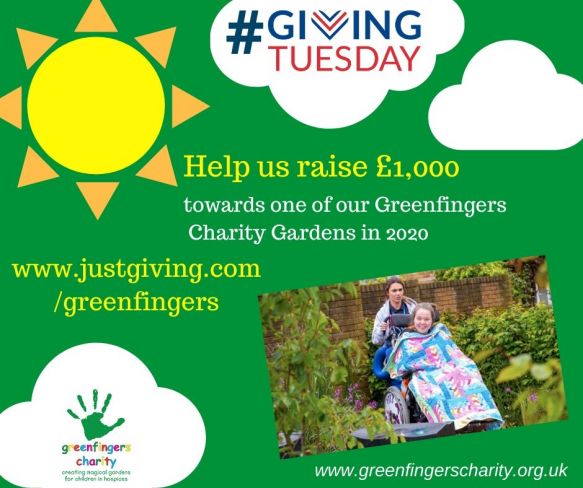 #GivingTuesday is a day dedicated to giving back and supporting the charity you all love – Greenfingers – and here's how you can help!
Tell us what you've been doing for Greenfingers
We'd like to hear all about how you have been giving to Greenfingers Charity, whether its through your generous donations, giving up your time volunteering, taking on a fundraising challenge, holding an afternoon tea or cake sale, or however else you love to help out!

Share your #givingstory
Share your story with the hashtag #MyGivingStory on your social media accounts (Twitter, Facebook, Instagram or LinkedIn) using and tag us in! It can be as long as a video or as short as a Tweet.

Show your #GivingTuesday support with a photo!
Download our GivingTuesday poster here and take a picture holding it up to spread the word to others about how to support Greenfingers!

Make a donation or sign up to our newsletter
In support of #GivingTuesday we're asking for your help to raise £1000 in just one day and also to encourage your friends to find out more about our work by signing up to receive our newsletter. The money raised will help to bring the precious gift of a garden to more life-limited children and their families who spend time in hospices across the UK.
You'll be joining millions of people around the world in #makingadifference #givingforgreenfingers
Thanks for your support!