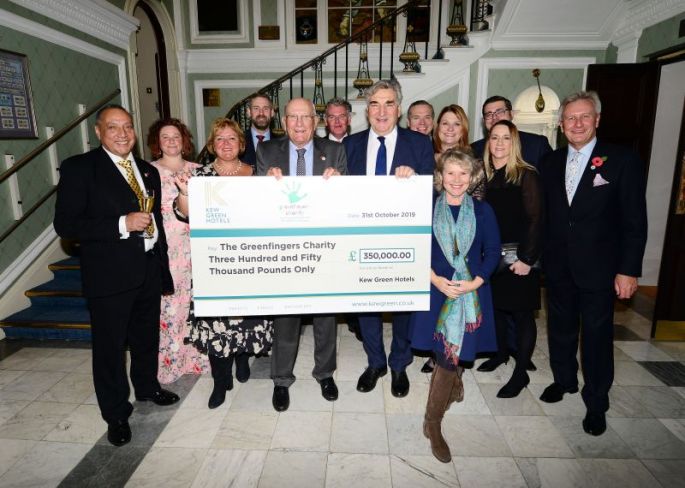 Our Annual Greenfingers Charity Fundraising Dinner was the perfect place to say a big 'thank you' to one of our great supporters, a team who always puts the FUN into FUNdraising no matter what they take on – Kew Green Hotels. At the dinner, the Kew Green team presented Greenfingers with an incredible £350,000 cheque, representing the money raised by hotel teams right across the country since our charity partnership with them began in 2016; this is an incredible achievement that touched all in the room.
Kew Green have completed endless challenges and events for Greenfingers. As well as volunteering in gardens, staff across their 50+ hotels have raised money by organising individual and team events, both on and off-site in a huge variety of ways. Quiz nights, book sales, bake sales, car washes, raffles, sporting challenges and many more events have been taking place as well, as endurance challenges such as the Coast to Coast Cycle and the Three Peaks have all helped to raise money to create magical hospice gardens. The unstoppable Helen Barker has now run over 1,000 miles for the charity, 52 of these recently completed in the Sahara Desert as part of a gruelling double marathon!
As Chairman, John Ashley said, at the dinner "Our annual dinner isn't just about raising money, but it is also an opportunity to celebrate and recognise the amazing work that our wonderful supporters undertake to help Greenfingers create stunning garden spaces at hospices throughout the UK. Every penny raised by our supporters is so gratefully received. We cannot thank Kew Green enough for choosing Greenfingers."
Find out more about our 'Charity of the Year' Partnership opportunities and other corporate fundraising ideas here.