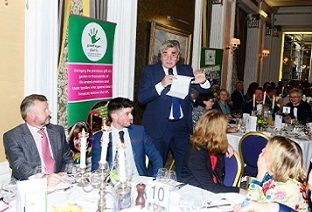 Last week, friends and supporters of Greenfingers Charity came together for another wonderful night of celebrations and vital fundraising at the charity's annual FUNdraising dinner.
Taking place within the prestigious RAF Club in the heart of London's Mayfair, the event saw 100 friends and supporters of Greenfingers dig deep to help raise over £18,000 during the evening's proceedings.
The evening was kindly supported by Greenfingers' patrons, actors Jim Carter and Imelda Staunton. Together Jim and Imelda led the night's festivities, which included a fiercely fought auction as well a touch of 'Downton Abbey'. Highclere Castle Gin, a Downton Abbey goody bag and a special Downton Abbey themed game of 'heads or tails' put guests' knowledge of the award-winning TV series and film to the test.
During the evening, a number of Greenfingers supporters were awarded special trophies for their incredible support. First up was PR Ambassador John Clowes who helped raise over £20,000 from his articles in The People's Friend magazine.
Glee's Matthew Mein, GIMA's Vicky Nuttall and Kimberley Hornby of Hornby Whitefoot PR followed next, receiving awards for their outstanding contribution which earlier this year saw them complete their 100th Garden Re-Leaf Day mile and at the same time raise thousands of pounds for the charity.
And GIMA and its members were also recognised as Richard Pyrah, President of GIMA collected an award for the trade associations support this year which has seen over £20,000 raised by its members. Thanks to Richard, who nominated Greenfingers as his chosen charity, funds have been raised by GIMA's wing walkers, the annual GIMA Charity Day, the glittering GIMA Awards and much more.
The team at Kew Green Hotels were also celebrated, having completed endless challenges and events for Greenfingers, including the unstoppable Helen Barker who has now run over 1,000 miles for the charity, 52 of these miles completed in the Sahara as part of the gruelling double marathon! The Kew Green team presented an incredible £350,000 cheque to Greenfingers Charity; representing the money raised by hotel teams right across the country since the charity partnership began in 2016; an amazing achievement that touched all in the room.
During the evening The Horticultural Golf Society also presented a cheque for £8,000, the money raised in the summer by their members and guests at their annual golf day.
Talking about the dinner, Greenfingers Chairman, John Ashley, said: "I would like to extend my endless gratitude to all those that joined us at our third FUNdraising dinner at the Royal Air Force Club, especially to our Patrons Jim and Imelda who helped to make the evening a truly a joyous and memorable occasion. I would also like to thank our friends at Vitax who kindly sponsored the Champagne reception and to all those who kindly donated auction and raffle prizes. Our annual dinner isn't just about raising money, but it is also an opportunity to celebrate and recognise the amazing work that our wonderful supporters undertake to help Greenfingers create stunning garden spaces at hospices throughout the UK. Every penny raised by our supporters is so gratefully received. We cannot thank our friends enough for choosing Greenfingers as the horticultural industry's favourite charity."
Linda Petrons, Greenfingers' Director of Fundraising & Communications added: "I'd like to echo John's sentiments. We never get over the fact that so many individuals and brands take the time to support Greenfingers, whether by giving their time, digging deep into their pockets or taking on massive personal challenges. Every penny we receive is put to very good use, and I can assure you that the life-limited children that call a hospice 'home', as well as their families and friends, appreciate every precious moment these gardens help to create."
For more pictures of the night, take a look at our Photo Gallery.