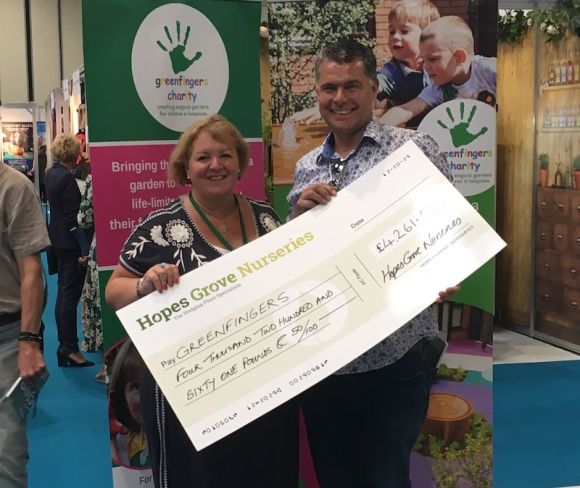 Hopes Grove Nursery in Tenterden, Kent held a special charity plant sale on July 19th to raise funds for the Greenfingers Charity.

Despite a grey and overcast day, the team raised over £4,000, which they presented to Greenfingers' representatives at Glee last week.

Not only this but twins Sean and Owen (11) along with Primrose (6) and Violet (4), the children of Hopes Grove Directors, Morris and Lynne Hankinson, also helped to add to the grand total by collecting and cleaning the multi-colour eggs laid by their hens and selling them to their friends at school, raising £26 in the process!
Linda Petrons, Director of Fundraising & Communications at Greenfingers said: "Our sincerest thanks to the team at Hopes Grove Nursery, their customers and of course Sean, Owen, Primrose and Violet for their amazing support. Events such as the charity plant sale are a fun and easy way to engage with customers in-store, and to also raise funds for charity. And of course we just love to hear about children supporting children. The efforts of the Hopes Grove team is so very appreciated, and I can assure you the funds will be put to good use as we create even more magical gardens at children's hospices throughout the UK."