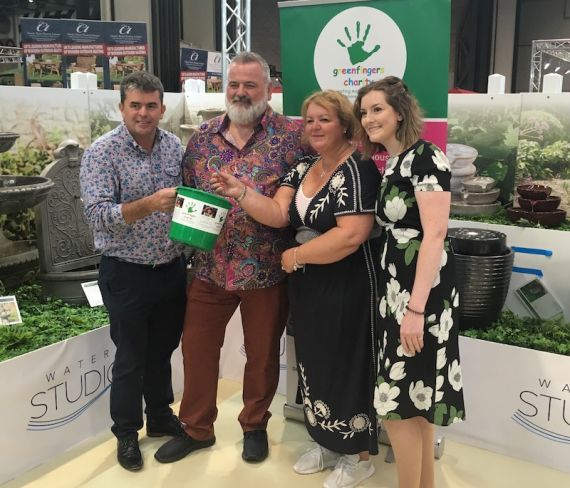 Visitors to Glee had the opportunity to win a stunning water feature brimming with fabulous bottles of bubbly thanks to long-term Greenfingers supporters, Woodlodge.
Woodlodge's 'Fountain of Fizz' raffle helped to support Greenfingers at the same time as celebrating the company's newly branded Water Studio collection of aquatic features.
Michael Wooldridge, Managing Director at Woodlodge, said: "Woodlodge is proud to support Greenfingers, a charity that has created the most amazing gardens at children's hospices. These brilliantly designed outdoor resources offer so many benefits for life-limited kids, as well as their friends and families, who can enjoy precious time together away from the bedside in a natural environment. We hope that the Fountain of Fizz raffle for Greenfingers at Glee will generate significant additional income to assist the charity in its mission to build more stimulating gardens at hospices."
Woodlodge has a long track record of helping to generate funds for Greenfingers Charity. The company's Richard Newton undertook a parachute jump with colleague Abigail Stocker in 2017 and raised £2,355 for the charity, while Woodlodge assists Greenfingers throughout the year with its printing service, helping with signs and banners for charity events, product promotions and this year donated 10,000 jointly branded linen give-away bags for The Greenfingers Charity Garden at the RHS Chelsea Flower Show.
For more about Woodlodge's market-leading product offering, visit www.woodlodge.co.uk