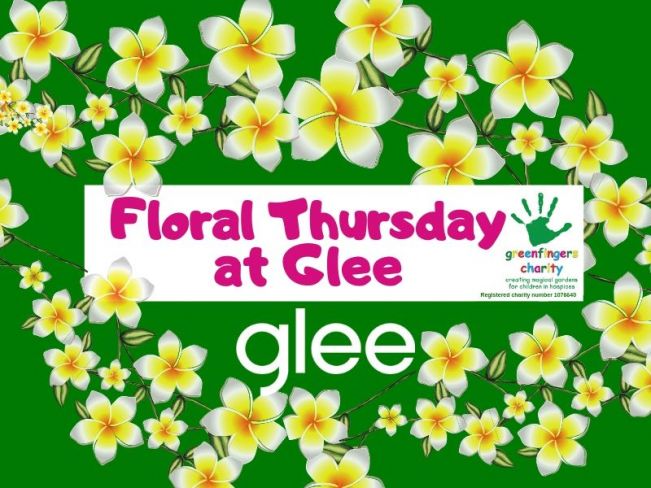 In support of Greenfingers Charity's special 20th anniversary year, the Glee team, supported by Glee Daily News, are this year urging exhibitors and visitors to Glee to put the floral FUN into FUNdraising at Glee on Thursday 12th September...

With thousands of visitors and exhibitors at Glee on Thursday, it is hoped that the power of the flower will allow a brand new record to be set for the most people wearing floral themed shirts, dresses, ties, suits or jackets on the same day and in the same place. All those taking part will also be invited to support the charity by buying a raffle ticket which will be entered into a prize draw to win fabulous prizes, including a Pot of Prosecco kindly donated by Woodlodge.
Here's how it works ...
The plan is to sell raffle tickets as exhibitors and visitors enter the halls on Thursday morning with the Floral Thursday raffle being drawn at 2:00pm on the Glee stage. If everyone wearing floral attire could bring a little (or a lot!) of cash, buy a raffle ticket and then join us on the Glee Retail Growth Theatre stage for the prize draw, we will set a new record for the most people wearing floral attire in one place, and at the same time raise a record amount of money for Greenfingers in the charities 20th year.
Greenfingers Ambassador Trevor Pfeiffer suggested the idea after getting so many positive comments while wearing floral shirts at Glee last year. "Every time I wear a floral shirt for work it makes people smile so if we can get as many people at Glee on Thursday wearing floral what a happy place it will be!"

Glee Show Director Matthew Mein said: "We're all looking forward to a great show and to hopefully seeing many smiles as our industry friends don their favourite flowery outfit and put the FUN into FUNdraising to support the garden industry's favourite charity. "