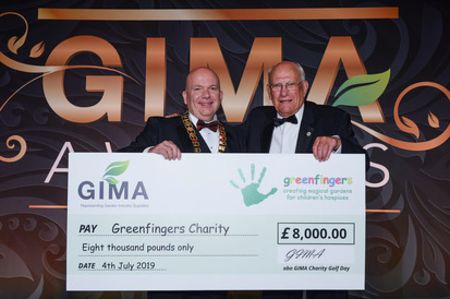 We'd like to extend our thanks to GIMA who have been busy fundraising for Greenfingers this year!
The 10th Annual GIMA Charity Day raised £8,000
A successful day and night of fundraising was had by all who attended the 10th annual GIMA Charity Day, held at Telford Hotel and Golf Resort on 6th June. The event brought together garden industry suppliers and retailers, with 18 four-ball teams competing for the GIMA Golf trophy, and two teams battling it out on the new-for-2019 Crystal Maze course. This year the team from Hartman retain the golf crown having also won in 2018, with a superb score of 86. Sunshine Garden Centre and Mr Fothergills Seeds following closely behind with 85 and 84 points respectively. The evening event, hosted by golf day organiser Andy Bestwick, brought all attendees together under one roof and with the after dinner entertainment from magician Richard Pinner. The event was was supported by a range of sponsors including: Hornby Whitefoot, Smart Garden Products, Westland, Primeur, Zest, Garantia, Hozelock, Woodlodge, Bord Na Mona, Vitax, Deroma, Starplast and Garden Trade News.


The brave Wing Walkers are on track to raise £10,000
Well done to our amazing Wing Walkers who took to the skies for Greenfingers! Vicky Nuttall, Director of GIMA, Mark Portman, MD of Evergreen Garden Care and Lowri Walker, National Account Manager at SBM Life Science finally got airborne on the 29th June after a technical hitch thwarted their original plans. Taking care of the daredevils were expert pilots at AeroSuperBatics, the team behind the Breitling Wingwalkers, a much-loved display act at UK airshows, as they were strapped to the roof of a bi-plane for a 10-minute exhilarating wing walking experience. Featuring fly-pasts, zoom climbs, steep dives and banks, they were able to see the Wiltshire countryside from a bird's eye point of view.
There's still time to sponsor their amazing feat here at Just Giving.

And the GIMA Awards Gala Dinner raised £4,000

A raffle held at the GIMA Awards Gala Dinner on Thursday 4 July, sponsored by Hozelock, raised another £4k. The GIMA awards were, as always a great success and are recognised as the garden industry event of the year. This year's event was hosted by Vernon Kaye, sponsored by Glee and once again held at the Celtic Manor Resort in Newport, South Wales.
Huge thanks to GIMA for their ongoing support for Greenfingers Charity and for raising such an outstanding amount of money.