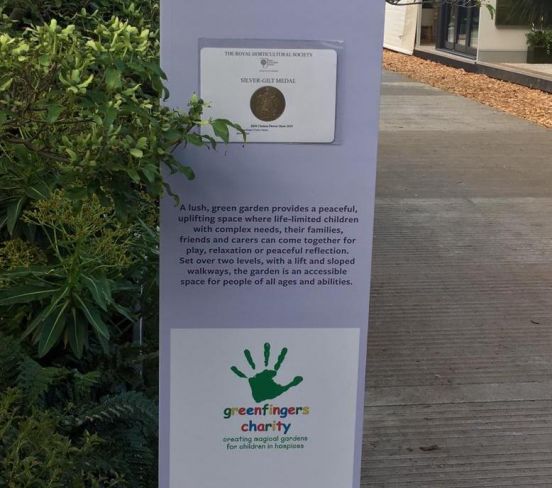 We are delighted to share the news that the Greenfingers Charity Show Garden, designed and built by Kate Gould Gardens, has won the Silver-Gilt Medal! We are over the moon that the RHS has recognised our garden with this prestigious prize. Kate created the garden in line with the garden's concept and creative brief perfectly – to provide a peaceful and uplifting space for life-limited children, their families and carers to spend time playing, relaxing or reflecting. A Greenfingers Garden can offer so many benefits for helping children in hospices throughout the UK.
This fantastic achievement has only been made possible by a wonderful collaboration between the charity, the kindness of a private donor, the brilliant Kate Gould and her team, many charity partners, the huge generosity of so many people in the gardening industry, our Chairman, our Patrons, Ambassadors, Trustees, Honorary Members, supporters and all the volunteers who have blown us away with their unwavering support and hard work.
Thank you to everyone who has helped create and build the garden and the following people without which it would not have been possible: Kate Gould and her amazing team, London Stone for the beautiful paving and porcelain tiles, Ibstock Brick for the lovely green glazed bricks, Richard House Children's Hospice, Myles and his parents for their help in trying out our garden, Linum Loom for the hanging chair, South West Play for the cargo net, Concrete Singh for help with the foundations, Oxford Planters for their outdoor furniture, Landscapeplus Ltd for the lighting, Woodlodge for the bags, Access Lifts for the fantastic lift, Majestic Trees, Emma Stothard for her wonderful sculptures, Christopher Farr for fabric, The Outdoor Cushion Company for the cushions, L Lynch Plant Hire for their big machines, Rose Tinted Public Relations, Todd's Botanics for plants and flowers, The Garden Design Company Ltd for help with planting, our charity partner Kew Green Hotels for their support, Hornby Whitefoot PR and all our volunteers who are helping us out this week.
We couldn't have done it without you all.