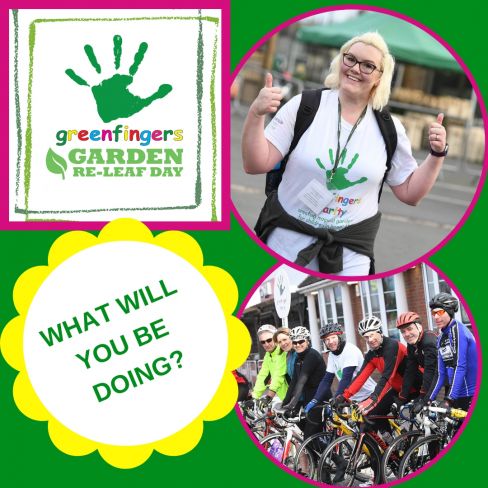 And here are just some of the events that have been planned...
This year's Garden Re-Leaf Day is now just a few days away! It's set to be a blooming great success thanks to the huge support from the garden industry and the tireless enthusiasm of all those who are participating in events and promotions all over the UK. Here's what's going on:
Altons Garden Centre – Are holding a Quiz

Aylett Nurseries, St Albans – Will be holding a Goodwill Coffee Morning in the Dahlia Coffee House and a Tombola on 22nd March

Blue Diamond – Will be donating money from a special Greenfingers Charity 'Friends' Rose on Garden Re-Leaf Day

Coolings Nurseries – Behind-the-scenes Nursery Tour, FREE with a donation, at 11am on 22nd March, plus donations from a plant sold on the day

CW Groves Nurseries – Are holding a Coffee Morning, plus a Gardeners Question Time event at Ivy House on Thursday 21st March at 6.30pm

Garden Store/Hillview Garden Centres – Are 'Going Green for Greenfingers'

Haskins Garden Centres – Raffles running 15-24th March at Ferndown, Roundstone, Snowhill and West End Garden Centres

Holiday Inn Chester South – A team from the YouFit Health Club will be climbing Mount Snowdon on 22nd March

Klondyke and Strikes Garden Centres – Will be donating £1 from every planter sold, plus 50p from every coffee or tea sold on 22nd March

Norton Park Hotel – Are holding a Summer Fete in the hotel grounds on 27th May, with all donations going to Greenfingers Charity

Longacres Garden Centre – Are holding a Sponsored Static Cyclotron in the Bagshot Branch as well as an ever-popular Raffle

The Old Railway Line – Are holding a Curry and Quiz Night, 22nd March, 6-9pm, you can buy tickets here

Paradise Park Garden Centre – Are holding a Gardening Quiz and lots of other fun activities

Perrywood Garden Centre – Are holding a Quiz Night *SOLD OUT*

Poplars Garden Centre – Are Having a Curry and Quiz Night, plus a Raffle on 22nd March, find out more here

Rowan Garden Centre – Are holding a Charity Fundraising Walk on 23rd March

Rolawn Limited – Are hosting various events including a Mucky Dip and a Cake Sale, from 10.30-4pm on 22nd March

Squires Garden Centres – Will be hosting a Create and Grow Mother's Day Planting Weekend from Friday 29th to Sunday 31st March at all centres except Chertsey, between 9:30am-3:30pm (10.30am on Sunday)

Stihl – Are holding a BBQ and a car wash on 2nd April

Sunshine Garden Centre – Will be holding a range of Muddy Boots Gang Children's Activities on Saturdays in March. Each session costs £5 which will be donated directly to Greenfingers Charity. You can buy tickets here

Thurrock Garden Centre – Are holding a Raffle, plus hosting a number of free Children's Activities on 22nd March, where people can donate to Greenfingers Charity

Whitehall Garden Centres – On Friday 22nd March they will be donating £1.00 from every hot drink and cupcake sold in their restaurants. They will also be holding a raffle from which all proceeds will be donated to Greenfingers Charity
Huge thanks to everyone who has organised an event or who is planning to attend one, we're sure it will be a great day!