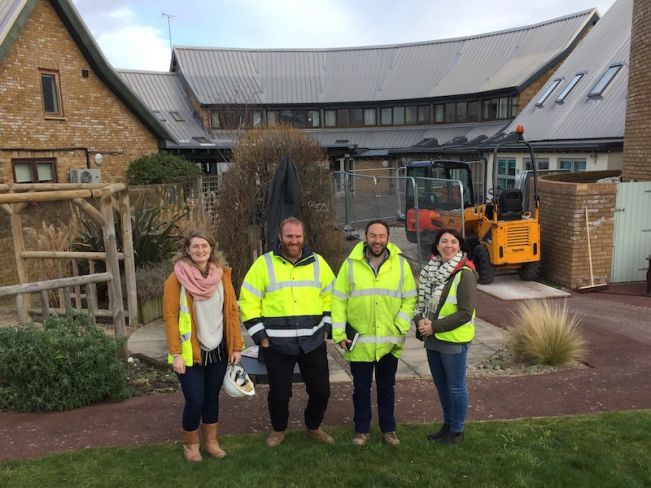 We've got lots going on this Spring at Greenfingers Charity and our 20th Anniversary year has got off to a great start, with three more children's hospice gardens getting underway, plus plans for a fourth. We're also very excited to have announced further details about our "Greenfingers Charity Garden" that will feature on Main Avenue at the RHS Chelsea Flower Show in May, including a plant list and design plans.

Four new wonderful gardens
2019 is a very special celebratory year for Greenfingers Charity, the only charity dedicated to creating magical gardens for life-limited children and families who spend time in hospices. The charity has created 55 hospice gardens in its 19-year history and thanks to the continued generosity of its supporters, will add a further four hospice gardens to its growing portfolio;
Sean Murray's design for "The Nest and Rest Garden" at Grace House will be completed in the spring and will provide a wonderful outside space for children, families and carers who spend time at this facility in Sunderland.
A one-acre woodland area at Richard House Children's Hospice in East London is currently being transformed thanks to the vision and creativity of garden designers Andrew Fisher Tomlin and Dan Bowyer. Andrew and Dan have been working with the hospice to design an enchanting woodland in which life-limited children and their siblings will be able to have fun, explore and play together knowing medical support is close at hand.
Work started this month at "The Garden of Colour" designed by Carolyn Willitts at Claire House Children's Hospice in the Wirral. As well as being a feast for all the senses, this new garden will provide shelter to enable hospice carers and families to work and play outside.
Designed by Darren Hawkes, a vibrant sheltered outdoor space will be created at Little Harbour Children's Hospice in St Austell in Cornwall later this year.
John Ashley, Chairman of the Charity said, "The charity has certainly been on an incredible journey since the early days and I'm delighted to be at the helm during this special anniversary year. We are all enormously grateful to every one of our wonderful individual and corporate supporters who continue to work tirelessly to fundraise, help us to fund-save, and build the Greenfingers Charity brand. We are all looking forward to a great year for the charity and to seeing these new gardens come to life to be enjoyed by hundreds more children who would otherwise find it difficult to spend time outside."

"The Greenfingers Charity Garden" at the RHS Chelsea Flower Show
Also, to mark our special year, thanks to a private donor, the charity will be showcasing its work at the RHS Chelsea Flower Show. "The Greenfingers Charity Garden" on Main Avenue, has been designed by Kate Gould. We're delighted to announce that Kate has now chosen a plant list in a soothing palate of green and white, with little explosions of joyous yellow.

Creating a sense of tranquility was essential, considering the garden is designed to be a calming, interactive and uplifting space where life-limited children with complex needs, their families, friends and carers can come together for play, relaxation or peaceful reflection. The lush green garden is set over two levels, with a lift and sloped walkways, an accessible space for people of all ages and abilities, it's a garden that will not require huge maintenance to keep it looking good. Find out more here.