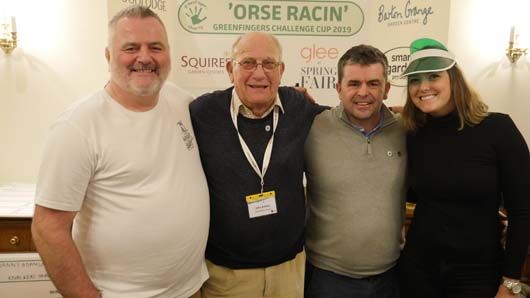 A fantastic afternoon and evening was had by all on Sunday, as the first day of 2019's GCA Conference got underway at Luton Hoo Hotel. Big thanks to Ian, Richard and Abbie from Woodlodge who, to mark the ninth Annual Challenge, created the Greenfingers Gallops, an 'Orse Racin' Event like no other!
Almost 100 garden centre and supplier delegates took part, both racing and spectating, as teams of brave jockeys took to their marks, to compete for the prestigious Greenfingers Challenge Cup. Much hilarity ensued as the wooden horses (cleverly made by Woodlodge!) were reeled in by their teams, with each race generously raising funds for Greenfingers Charity.
Since then the GCA Conference has been in full swing, with talks by many speakers including our Chairman, John Ashley, top awards handed out to worthy winners, plus an amazing African Safari themed fancy-dress evening! We can't wait to find out who won the races – Cabbages or Pansies – at the GCA Annual Dinner tonight. Watch this space!
Many thanks to Trevor at Garden Trade News for all his fantastic pictures.