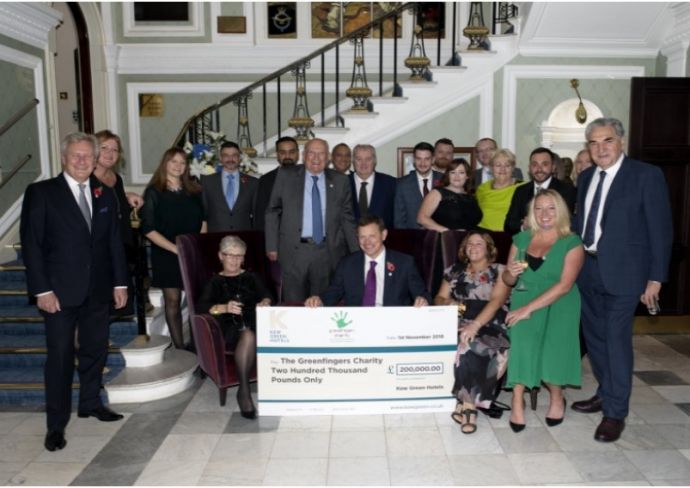 Our Greenfingers Charity annual Fundraising Dinner was the perfect place to say a big 'thank you' to the many people who really put the FUN into FUNdraising throughout 2018. Our Chairman, John Ashley, presented awards to some of our amazing Greenfingers Charity FUNdraisers, among these were guests and representatives from our fundraising partner Kew Green Hotels.
Staff of Kew Green Hotels were awarded for their Outstanding Support. Collecting the award on behalf of the hotel group was Neil Sewell, MD of their Owned Hotels division. In just under two years, as well as volunteering in gardens, staff across their 55 hotels have raised a over £200k by organising individual and team events, both on and off site in a myriad of different ways. Cycle challenges; car washes; raffles; cake sales and entertainment evenings have been taking place as well as endurance events such as the Jurassic Coast 100km Challenge; Snowdon climbs and marathons have helped to raise money to create magical hospice gardens.
Affectionately referring to the event as the "Thanksgiving Dinner" John said a huge thank you to all those who continued to support the valuable work of Greenfingers Charity. As the charity looks forward to its bumper 20th Anniversary year in 2019, plans are already in place to build three more gardens in children's hospices across the UK which will provide solace and many memory-making opportunities for hundreds of life-limited children and their families every year.