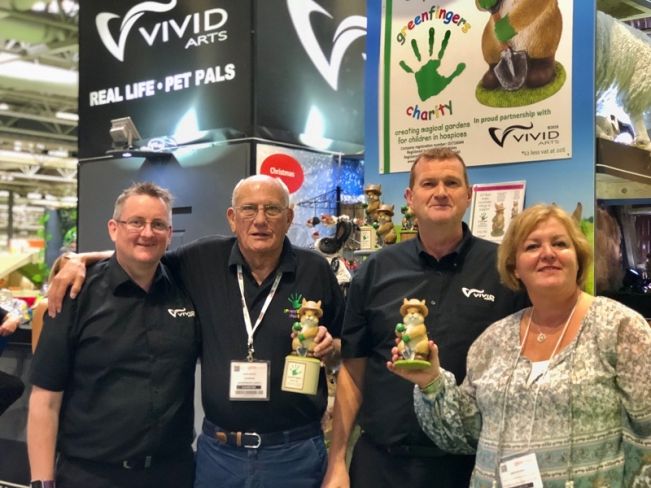 Greenfingers celebrated the start of its 20th anniversary at this year's Glee with some magnificent industry contributions, as well as unveiling some exciting plans for 2019.
Support for Greenfingers' precious work was a key focus at this year's revitalised show with product partnerships between Vivid Arts and Needlefresh being launched, the 2019 annual fundraising Garden Re-Leaf Day being announced and FUNdraising heroes from the industry tirelessly and enthusiastically raising money throughout the year to aid the charity's mission.
The continued success of the collaborations with Ivyline, the Great British Card Company and Hornby Whitefoot PR were celebrated at the show after each company proudly presented cheques to the charity, totalling over £26,000 across the three days, whilst Woodlodge raised £406.91 from their Pot of Prosecco raffle (well done to winner George Bullivant), making the important plans to build more gardens for children's hospices a reality for 2019.
The end of the show also saw donations from Glee's flagship show feature, the Retail Lab. 14 pallets of stock have been donated to Greenfingers following breakdown of the exhibit. Hozelock, Ivyline, Woodlodge and Price's Candles UK have all contributed some of their beautiful products to aid Greenfingers work in creating inspiring, sensory and therapeutic gardens.
Industry supporters, HTA, ITE Group, GES Logistics, PP8 Marketing and Chiltern View Nursery also helped to coordinate the donations which will be gratefully received.
To date, 55 Greenfingers gardens have been created at hospices across the UK. The interactive 'Nest and Rest' garden at Grace House, Sunderland is next to open. Designed by Sean Murray, winner of the BBC's Great Chelsea Garden Challenge in 2015 and founder of Garden Narratives, the new garden will provide a place for recreation and enjoyment for the children and families who spend time in Grace House as well as providing a safe, therapeutic and peaceful haven. The garden has also been designed to attract an abundance of wildlife and provide an exciting sensory experience for all. This project has seen generosity from grant making trusts, along with support from nearby Cowell's Garden Centre, Johnsons of Whixley for plants, funds raised by those taking part in Garden Re-Leaf Day and Kew Green Hotels.
With Greenfingers celebrating 20 years of caring next year, the following gardens are in the pipeline to be built to provide respite and relaxation for life limited children and their families. They include a sensory garden at Claire House Children's Hospice (The Wirral), designed by Carolyn Willitts; an all-weather garden at Little Harbour Children's Hospice (St Austell) which will be designed by Darren Hawkes; and a woodland garden at Richard House Children's Hospice (East London), designed by Andrew Fisher Tomlin; with more on the waiting list.
John Ashley, Chairman of Greenfingers Charity said: "With the continued support of the garden industry, we hope that work will begin on these three new Greenfingers gardens later this year. The contribution of materials, old stock, time or expertise and financial donations helps to create life changing outdoor spaces. On behalf of Greenfingers, I'd like to express our sincerest gratitude for these wonderfully kind donations from our supporters at Glee."
To learn more about the charity's work, please do contact the team on 01494 674749 or email linda@greenfingerscharity.org.uk