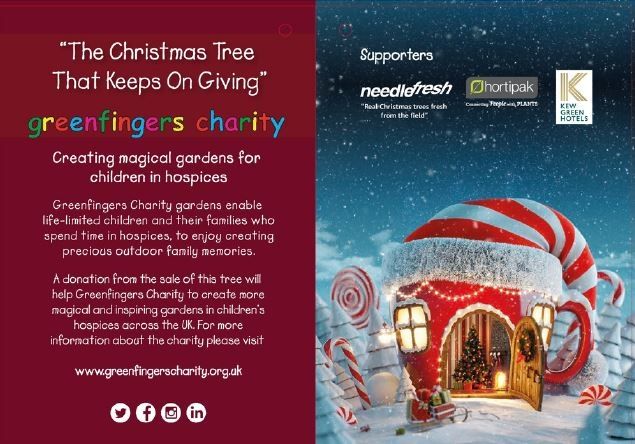 Needlefresh, the leading real Christmas tree supplier, has announced a charity partnership with Greenfingers which will be launched at Glee in September.
The fundraising initiative will allow garden retailers a simple way to donate to Greenfingers through Christmas sales over the upcoming festive period.
Known as "The Christmas Tree that Keeps on Giving, Needlefresh is encouraging all of its customers visiting the show to purchase special promotional labels to attach to their Christmas tree stock. Each tree sold with the label, will see a total donation of 50p going to Greenfingers' work creating beautiful, well-designed outdoor spaces in hospices for children to enjoy with family, friends and siblings.
The eye-catching label, designed and printed by Hortipak, can be purchased for 25p from Needlefresh who will generously match this. Hortipak will be kindly donating 10,000 labels to the cause and will provide instore POS to support the campaign. The labels can be used either for a particular size and type of tree to promote or to label all trees high footfall days.
Christopher Hood, Managing Director at Needlefresh said: "As a family run business, we feel it is important to support other families through challenging times and make their time in hospices a little easier by providing relaxation, comfort and precious memories through a Greenfingers garden. Supporting this initiative will also help your business and Christmas trees stand out in a competitive environment. We encourage retailers to embrace our charity initiative in the run up to Christmas and help us raised vital funds for this worthy cause."
Linda Petrons, Director of Fundraising and Communications at Greenfingers Charity said: "We are delighted to be working with Needlefresh on this campaign again. We hope garden centres across the country sign up to this initiative over the festive period. Christmas is the time of year to give back and this is a fantastic way to give a small donation to help our vital work creating beautiful outdoor spaces in children's hospices."
Greenfingers will acknowledge the support of participating garden centres on its website, through its social media channels and can supply a press release template to promote the initiative in local media.
The Greenfingers team will have examples of the Christmas Tree labels on show and will be exhibiting at Glee on the HTA stand in Hall 19, stand no 19P69.
To get involved contact Sharon or Claire at Needlefresh and they will be delighted to help you. Please email: sharon@needlefresh.co.uk or claire@needlefresh.co.uk