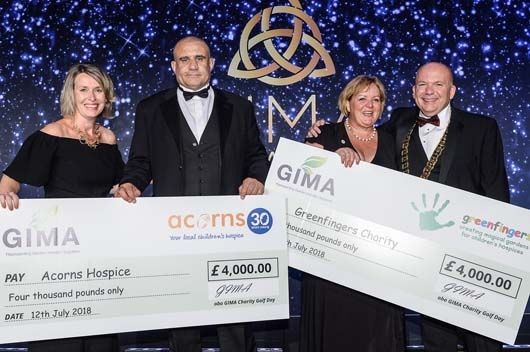 Greenfingers were presented with a donation of £4,000, raised at the annual GIMA Golf Day last month. The cheque was presented at the glittering GIMA Awards by GIMA Chairman, Richard Pyrah and Director, Vicky Nuttall. An additional £1200 was raised on the night for Greenfingers Charity which saw nearly 400 attendees from the garden industry.
Shortly we hope to open the 'Nest and Rest Garden' at Grace House hospice in Sunderland and we have plans underway for more magical gardens at Claire House in the Wirral, Richard House in East London and Little Harbour in Cornwall too. With the continued support of GIMA and its members and many others, we hope that work will begin on these three new Greenfingers gardens later this year.
Linda Petrons, Director of Fundraising and Communications at Greenfingers Charity said: "On behalf of everyone at Greenfingers Charity, thank you GIMA for another fabulous charity event. Your generosity throughout the day and into the evening is hugely appreciated by us all but more importantly the hundreds of children and families we support."
Picture courtesy of Steve Burden Photography.