Haven House

The Story of Haven House
Haven House was conceived in the early 1990s by Sue Irwin, a registered nurse and health visitor, who founded the charity with friends and colleagues to provide care to life-limited children and their families at no cost to them. Their first service, 'Toy Home Loan' began in 2001 whilst fundraising took place to transform, 'The White House' a locally listed former family home in Woodford Green, into premises suitable for children with complex health needs. The first child stayed with them in 2003 and since this time they have supported over 900 families.
Haven House is set in an overall 18 acres of woodland, with 4 additional acres of land behind the hospice. The grounds include a playground, sensory garden, and arboretum.
The Garden
Haven House was looking for help towards creating a 'Woodland Wonderland' an exciting project to transform the grounds. They wanted to ensure a modern, safe, accessible environment with activities for all ages. They had planned to develop an area of unused woodland behind the hospice to create a 'Woodland Walk', a magical adventure trail for the children to experience. Their specific request to Greenfingers was to support a new Garden of Reflection, a safe place for children, families, and staff to spend quiet time. The garden would go on to be called the Reflective Garden.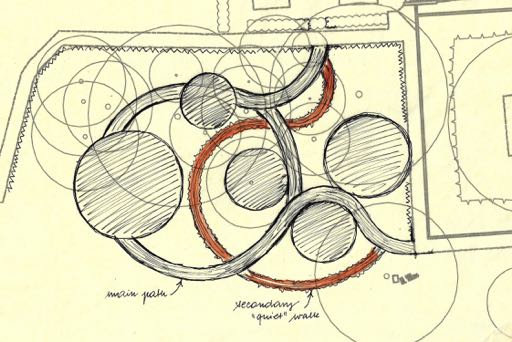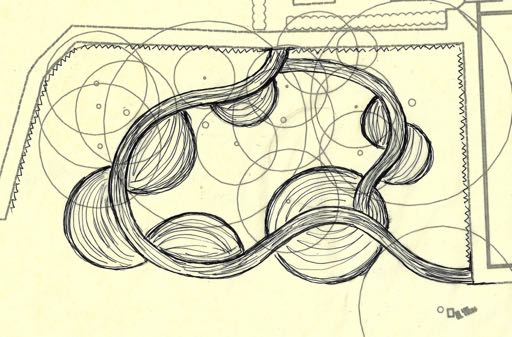 Tom Hoblyn Garden Design
Tom Hoblyn was selected to design the garden, with the brief to create a safe and tranquil refuge for quiet reflection, contemplation, and meditation. The gardens would also provide a sanctuary for personal prayer, a private space for conversations and counselling, and a place for families to sit peacefully. Furthermore, the design had to be low maintenance and composed of largely perennial and evergreen plants, be sympathetic to the conservation area, include seating and screening for privacy, be 100% accessible, have a pathway from the main route, feature paving in keeping with the history of the house and grounds, and be subtly illuminated with low-level lighting.
Garden opening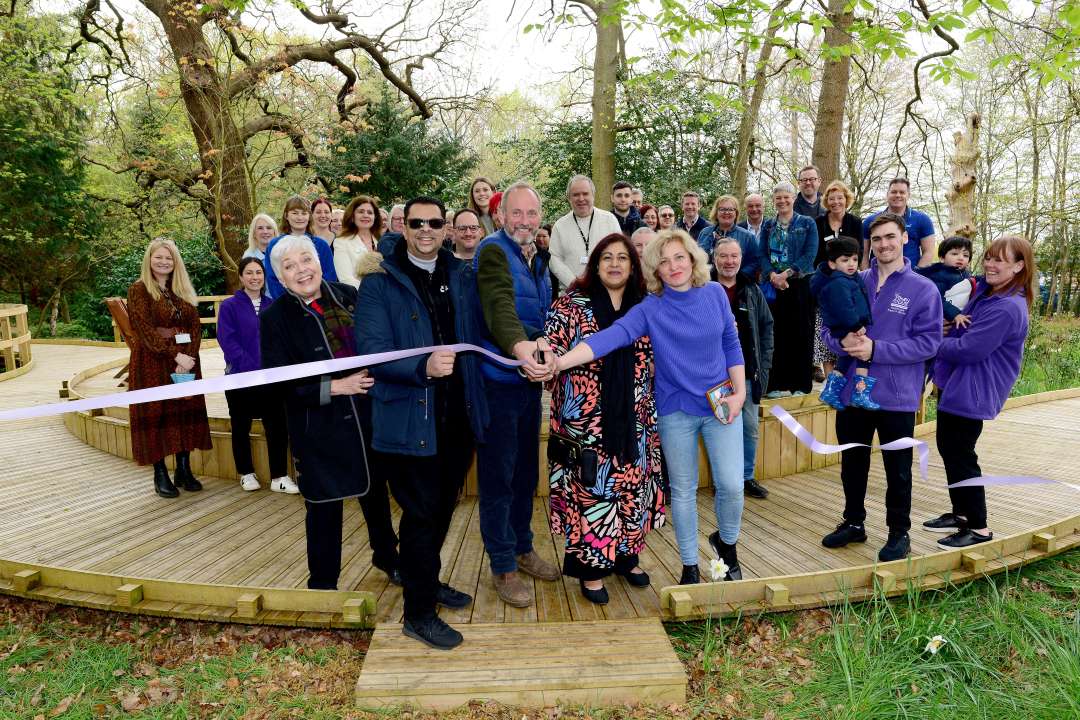 The opening on Wednesday 19th April was officiated by the award-winning RHS garden designer, Tom Hoblyn – designer of the Reflective Garden - alongside parents Aasam and Mariam Ali. Aasam and Mariam were part of initial conversations with Tom regarding the plans for the space as their late child Aiza was cared for by Haven House. Aiza was diagnosed with a rare metabolic condition, and started using Haven House when she was a year old and continued to use the services provided for over 14 years. The couple's long-term involvement in this project made their role as ribbon cutters even more poignant.
Joining in on the day were also SBM Life Science, who has recently confirmed a new partnership with Greenfingers Charity, representatives from Toolbank and Bridgman, Adam Taylor from Taylors Bulbs and a host of Haven House staff and volunteers as well as Greenfingers staff, Trustees and supporters. During the day they heard from Haven House's CEO, Siân Wicks, as well as Greenfingers Chairman, Sue Allen.
Once an unused woodland at the rear of the hospice, the new 300m2 space now includes a series of boardwalk-style pathways which lead to secluded and private refuges for children, families, and staff to spend quiet time together. The garden is a haven for wildlife, and the planting is such that each season of the year there will be something new for visitors to enjoy.
The Garden of Reflection was only made possible thanks to the passion and generosity of all those involved, including Clarins UK, Stewart Landscapes, The Postcode Lottery, Evergreen Garden Care, Taylors Bulbs, Toolbank, Bridgman, AMES UK, Scotscape, Smart Garden, The Solar Centre as well as many others who together donated funds, bulbs, garden equipment, benches, compost, lighting and their own time to help the scheme reach completion.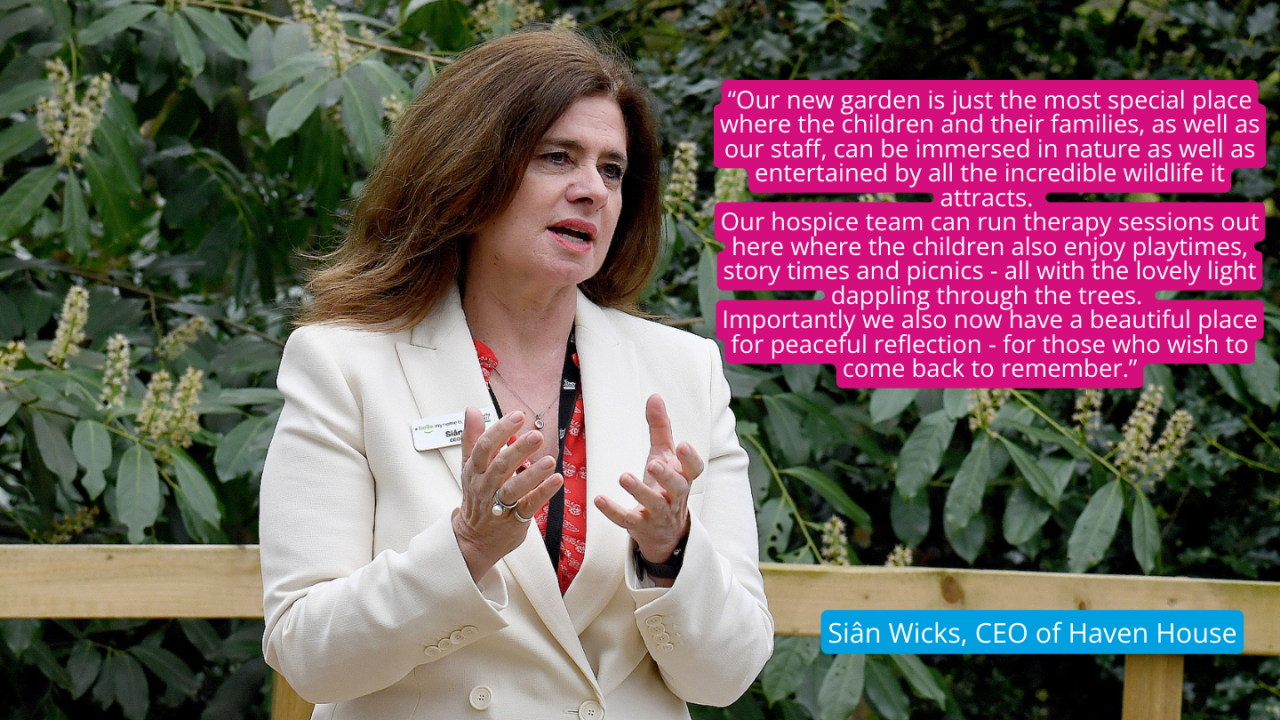 Linda Petrons, Greenfinger's Director of Fundraising & Communications said: "Handing over any garden is always a really magical moment. Haven House's Garden of Reflection is a truly stunning space, and you can see all the love and passion that has been poured into every element of the design. It is our honour to be able to officially hand over the garden, and we truly hope that it proves to be a long-lasting legacy for all those that spend time in it."
Siân Wicks, CEO of Haven House, added: "Our new garden is just the most special place where the children and their families, as well as our staff, can be immersed in nature as well as entertained by all the incredible wildlife it attracts. Our hospice team can run therapy sessions out here where the children also enjoy playtimes, story times and picnics - all with the lovely light dappling through the trees. Importantly we also now have a beautiful place for peaceful reflection - for those who wish to come back to remember. Thank you so much to Greenfingers, to Tom and to the whole host of people involved in creating this garden for all of us at Haven House – we know it will be enjoyed for many generations to come."
Finally, Aasam Ali added: "It was such a privilege to have been part of the consultation forum for this improved and inclusive area. There is something special and enchanting about this new space that offers something for everyone. For us, it will be a reminder of our little girl. Although Aiza is no longer with us, we know how much she liked nature and being outside. She would smile at the sound of a bird singing, flinch at the first drop of rain and then smile to herself. She would have loved sitting in this space and getting a sensory overload. This beautiful corner of the hospice offers a space to connect emotionally, spiritually and be at one with yourself, your family and friends. You can experience the benefits through just being silent.
"Being involved in this project was not only an opportunity for personal growth and development, but also a chance to make a positive impact on the community, and I hope Haven House continues to work with this wonderful team to deliver more."