Previous Appeals
A MILLION MOMENTS APPEAL
Greenfingers Charity A Million Moments appeal on Vimeo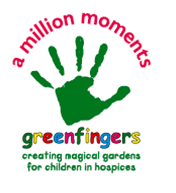 In July 2015, Greenfingers launched the 'A Million Moments' Appeal, which aimed to raise £1 million to enable us to bring the precious gift of a garden to a further 5,000 children and families who are involved in the hospice system. The name for the 'A Million Moments' appeal came from our aim to provide children and families in hospices with precious shared moments together, outside, in magical garden spaces. From our years of experience working with hospices to create gardens, we are deeply aware of the benefits that access to gardens can bring to children who's daily lives may involve a high level of medical care.
The launch of the appeal came at a time when we had a longer waiting list than ever of hospices in need of well-designed outdoor spaces for the children and families they care for. The appeal was primarily to fulfil these needs by providing expertly designed gardens which are safe and accessible all year round where children can play, relax, have fun; families can enjoy precious time together; and hospice carers can offer therapies, treatment and education outdoors.
John Ashley, Greenfingers Charity's Chairman, commented on the launch of the appeal, saying "At Greenfingers we are acutely aware of the need for us to continue providing hospices with amazing spaces for children with life-limiting conditions – we are inundated with hospices who need our help and are calling today on people to get behind our new appeal and help us raise the funds to create even more gardens and help even more children. We will be coming up with ways that businesses and individuals can fundraise for the 'A Million Moments' appeal and urge everyone to get involved – and by supporting this appeal you will be giving thousands of children the gift of precious moments spent outside in an inspiring natural environment."
Deborah Skillicorn added: "Recently I have spent time visiting hospices all over the UK who are crying out for a Greenfingers Garden. Many of these hospices have woefully inadequate outside areas, and yet we know how much the children they care for could benefit from a garden, play space, or simply an accessible outside area. We desperately want to provide all the hospices on our waiting list – and all the children they care for – with the gift of a garden in which really special moments can be shared with siblings, friends and family."
Greenfingers raised £1 million under the banner of the 'A Million Moments' appeal helping at least 5,000 children and their families to benefit from spending time outdoors as a result of our efforts and with 10 gardens being created under the umbrella of the appeal including:
The Nest and Rest Garden, Grace House, Sunderland
The Garden of Colour, Claire House Children's Hospice, The Wirral
Little Harbour Children's Hospice, St Austell, Cornwall
Richard House Children's Hospice, East London
Rainbows Hospice, Loughborough
RHS Chelsea Garden at Earl Mountbatten Hospice, Isle of Wight
Two peaceful gardens at Bluebell Wood Children's Hospice, Sheffield
The Kaleidoscope Garden at Helen & Douglas House, Oxford
The Courtyard Garden at Keech Hospice Care, Luton
THE ROSY CHEEKS APPEAL
Rosy Cheeks Campaign from Greenfingers Charity on Vimeo.
In April 2013 Greenfingers launched the 'Rosy Cheeks' appeal which aimed to raise £750,000 over a two year period to build at least ten more gardens at children's hospices across the country.
The 'Rosy Cheeks' name represented the precious moment in time when a flush of warmth is brought to a child's face when spending time outdoors. 'Rosy Cheeks' moments are even more vital to children in the care of hospices, giving them the chance to embrace the simple pleasures many of us take for granted – the pleasure of enjoying the natural world, away from the pressures of their conditions. The gardens and outdoor spaces Greenfingers build under the umbrella of the appeal will provide carefully designed, therapeutic, natural environments where families can enjoy these 'Rosy Cheeks' moments together.
Two years on, when the appeal drew to a close in summer 2015 Greenfingers were delighted to report that we reached our fundraising target and have identified the ten hospices who will benefit from a Greenfingers garden as a result of the Rosy Cheeks Appeal.
By the end of the fundraising period of the appeal, two gardens were already officially opened, another completed, and seven at various stages of planning and development the success of the appeal is in no doubt. The aims of the appeal were clear and the support we received which contributed to our fundraising target was fantastic. From long-time supporters in the horticulture industry to individual donors we are extremely grateful to those who became involved and we now look forward to continuing to create inspiring outdoor spaces for the hospices we have identified as needing our help.