Finished Gardens
Since Greenfingers Charity was established in 1999 we have completed 52 garden and outdoor spaces at children's hospices, providing wonderful outdoor spaces for children and families to enjoy. Over a period of time, we may work with the same hospice on a number of different occasions to develop different types of garden schemes for them. Greenfingers gardens can be found at the following hospices.
Helen & Douglas House, Oxford
Garden designer and Greenfingers Charity Patron, Ann-Marie Powell, officially launched the new Greenfingers Kaleidoscope Garden at Helen & Douglas House in Oxford on Thursday 11th May 2017 in front of hospice staff and patients,Greenfingers Charity supporters and a special party of children from Beachborough Prep School, near Brackley, Northants, who helped to raise the funds to create this exciting outdoor space.
The all-encompassing space has been designed specifically so that hospice patients in beds and wheelchairs can have all year round sheltered access to nature.
Speaking to hospice patients and families, Ann-Marie said at the opening. "I am delighted to have been involved in this project right from the outset and it's great to see that the marriage between a Kaleidoscope of colour and a miniature Crystal Palace has produced such a dazzling structure that is great fun for everyone. I know only too well the real difference outdoor spaces mean to families who are facing a difficult hospice journey and so I'm thrilled to be here to open this garden today."
"So, thank you to everyone involved, particularly to the garden designer Nicola Wakefield, Infinite Playgrounds and to GreenArt Garden Design and Landscaping for helping to bring this very precious gift of a garden to Helen & Douglas House. I know the teams at Greenfingers Charity and Helen & Douglas House are very grateful to all of you for your contribution that now graces this wonderful hospice."
Kathy Patching, House Manager at Helen House said that she was delighted to accept the garden on behalf of all the children and hospice visitors and staff who use the garden. She said, "Every garden is a tranquil place that provides an inner peace for all visitors, but this Kaleidoscope Garden is something else. We have found that everyone wants to make repeat visits because they get colourful stimulation and enjoyment whatever the weather. Nobody leaves without a smile on their face."
Earl Mountbatten Hospice, Isle of Wight
Alan Titchmarsh officially opened a new therapeutic and recreational Garden at Earl Mountbatten Hospice, Newport, Isle of Wight on Monday 18th July, surrounded by many local people, volunteers and supporters of Greenfingers Charity that made the garden a reality.
Although Greenfingers Charity has created more than fifty gardens for Hospices around the UK, this new garden in Halberry Lane, Newport, proved to be one of the most complex to execute.
As Alan Titchmarsh said at the opening. "I'm no stranger to building gardens for disadvantaged families, so I can honestly say – it's never an easy task. But for Greenfingers to relocate and then recreate the Royal Bank of Canada's 2015 RHS Chelsea Flower Show garden to our wonderful Island here is no mean feat. Finding the funding, organising designers, supporters, suppliers and the final constructors and planters is far from an easy matter."
"So well done to everyone who was involved over the last year or so. Whether your contribution to this Greenfingers garden was great or small every bit made a big difference. The Earl Mountbatten team and everyone on the Isle of Wight thank you for your contribution that now graces our only Island hospice."
Alan continued, "This is no ordinary garden, as it adds a new dimension to the work of Earl Mountbatten Hospice, and has a lot of jobs to do. It helps to provide stimulation, respite and relaxation for all the patients, visiting families and the staff who, I know, will all appreciate a new place of peace and solace at difficult times."
Bluebell Wood Children's Hospice, Sheffield
In 2016 Greenfingers Charity completed its 50th hospice garden project as work finished on two tranquil garden spaces at the Bluebell Wood Children's Hospice in Sheffield.
Whilst many Greenfingers gardens focus on bringing elements of play and fun to children with ongoing illnesses who spend time in hospices, the gardens at Bluebell Wood highlight the extremely important work the charity does in providing the therapeutic benefits of gardens to those dealing with very upsetting end-of-life circumstances.
The gardens at Bluebell Wood are tranquil, calm spaces that sit beside the two bereavement suites at the hospice and are designed to offer privacy and space for contemplation at times of grief. Careful thought was given to providing year-round interest with planting to attract wildlife, bringing movement and an overall sense of tranquility in the gardens for families at difficult times.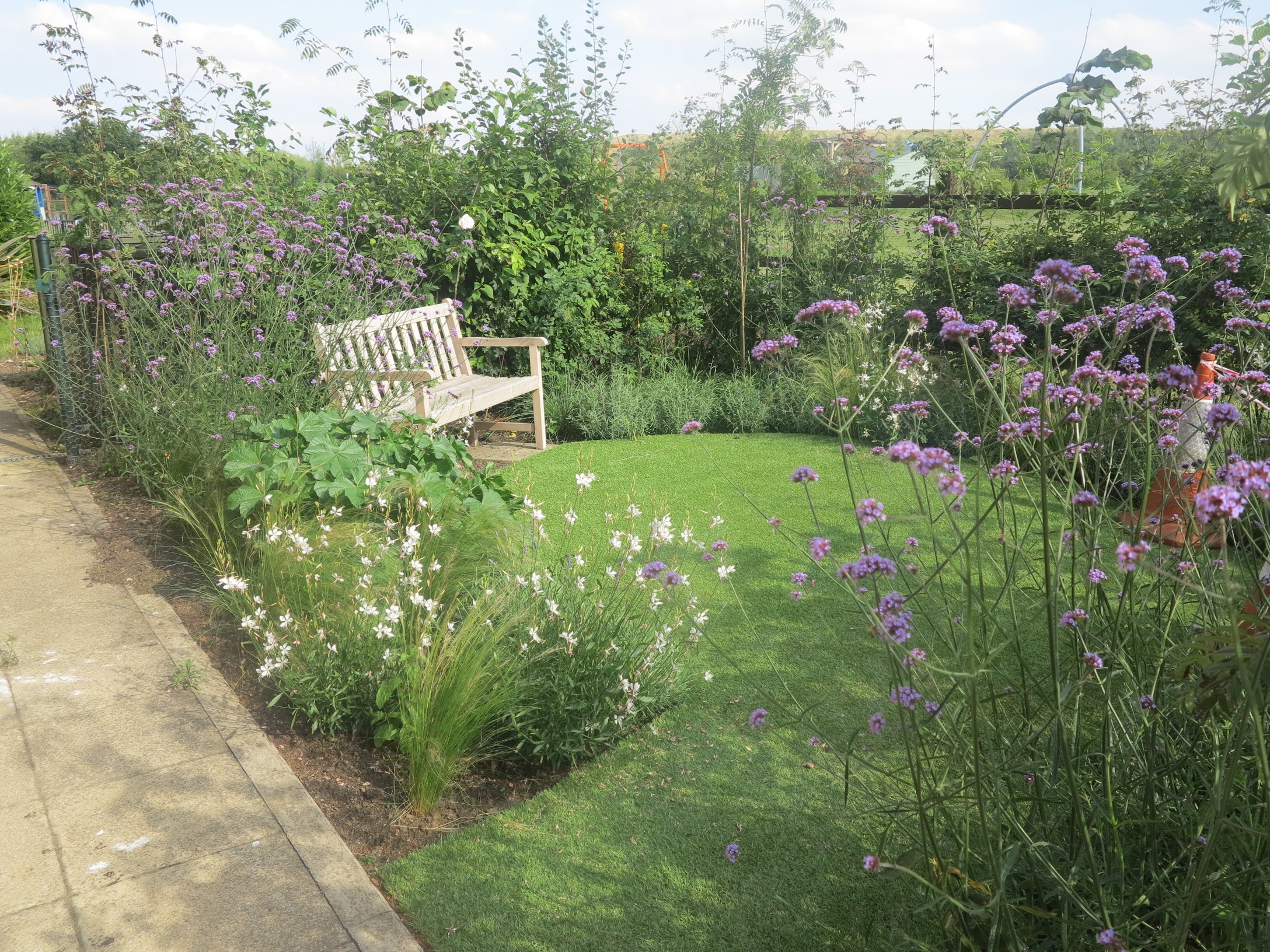 View more images
Forget Me Not Children's Hospice, Huddersfield
Greenfingers officially opened the garden at Forget Me Not Children's Hospice in Huddersfield, West Yorkshire, on 21st September 2015, our 49th garden space to be built.
The new 'Meadow Garden' at Forget Me Not has created a beautiful space that is accessible to all who spend time there, drawing on inspiration from the beautiful Yorkshire countryside that surrounds the hospice.
The meadow garden features many stimulating, specially designed features including accessible grassy viewing mounds safe for wheelchair use; a river
bed style flowing water feature for safe play with fishing nets; a walled stone circle area drawing on the typical stone walling to be seen around the region and a bird hide specially designed for wheelchair access with viewing points to observe wildlife. The whole garden includes annual and perennial wildflower planting, flanked by new native hedging.
To read more about this project click here.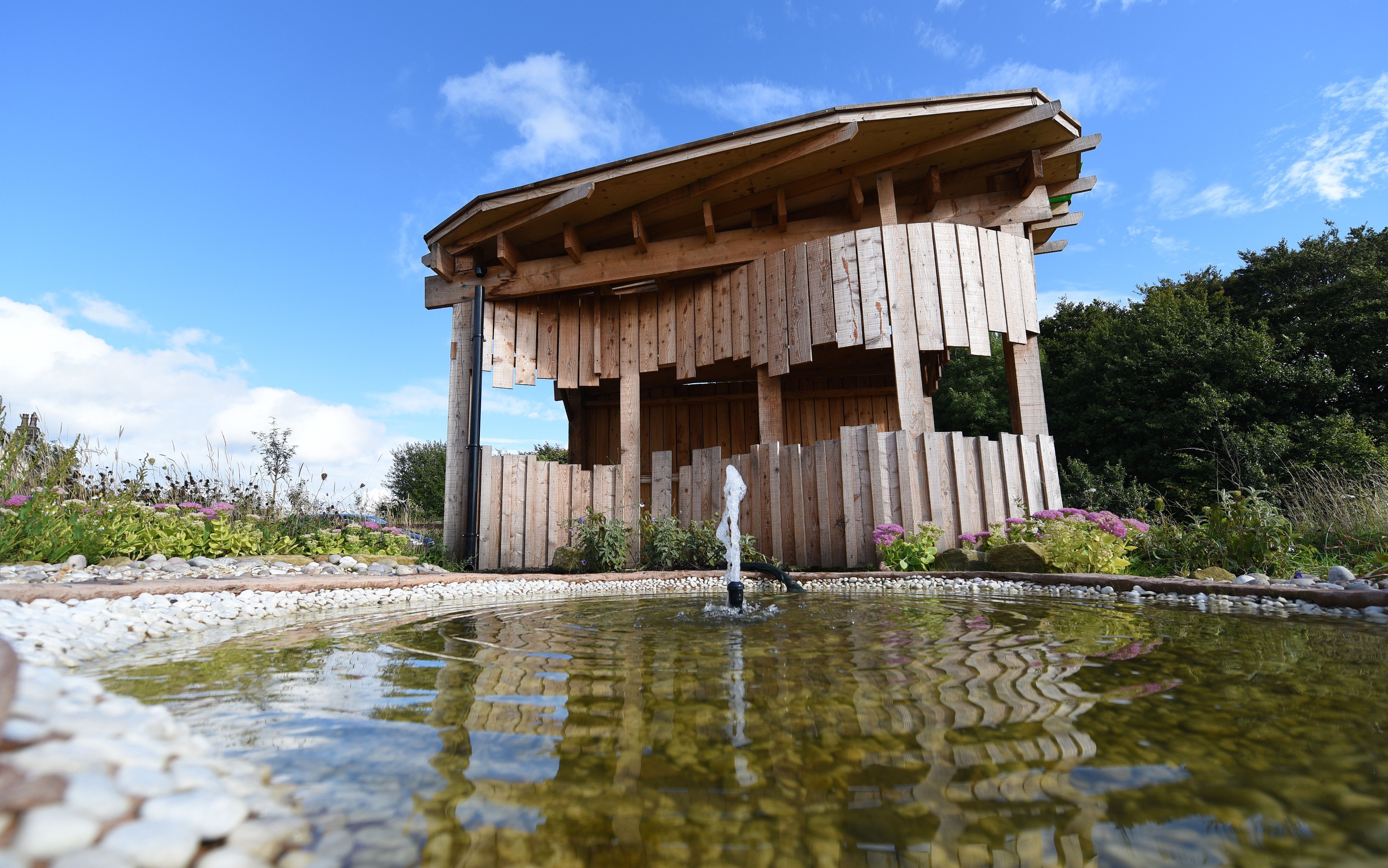 View more images
Little Havens Hospice, Essex
In Autumn 2014 we finished work on a wonderful Grow Your Own garden at Little Havens children's hospice in Essex. At this hospice, we worked with local company Eden Horticultural to transform a vacant patch of land into an abundant and lush fruit and vegetable garden where hospice children and their families can be actively involved in growing and harvesting crops. The garden includes a circus-style 'big top' social area where outdoor activities can take place and children and families can relax and therapists can run vital sessions in the beautiful surroundings.
To read more about this project please click here.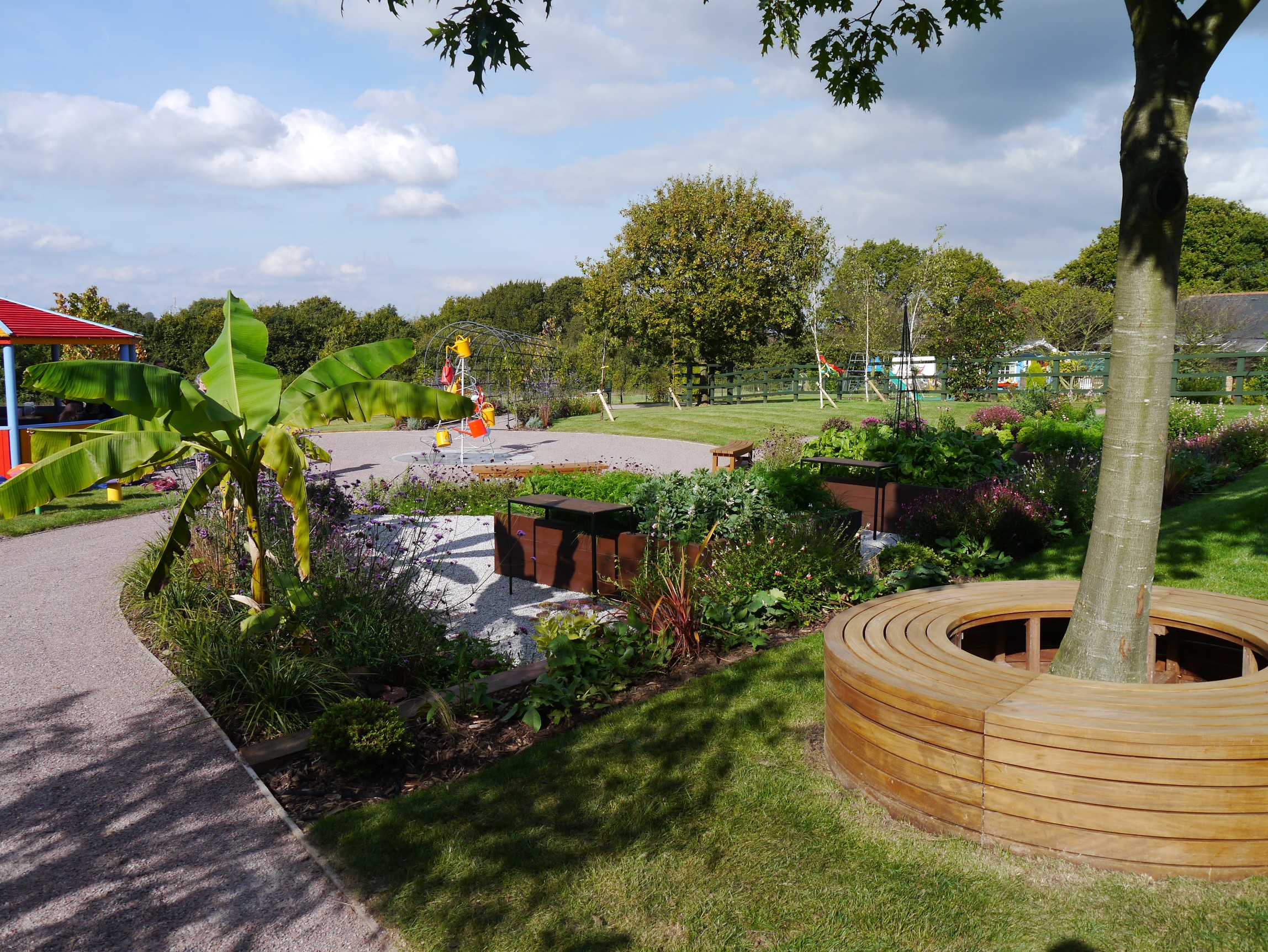 View more images
Chestnut Tree House, Sussex
We created a magical Woodland Walk at the Chesnut Tree House Hospice, transforming a previously unusable piece of land into a beautiful woodland retreat for the children and families who use the hospice to enjoy. Read more about this project here.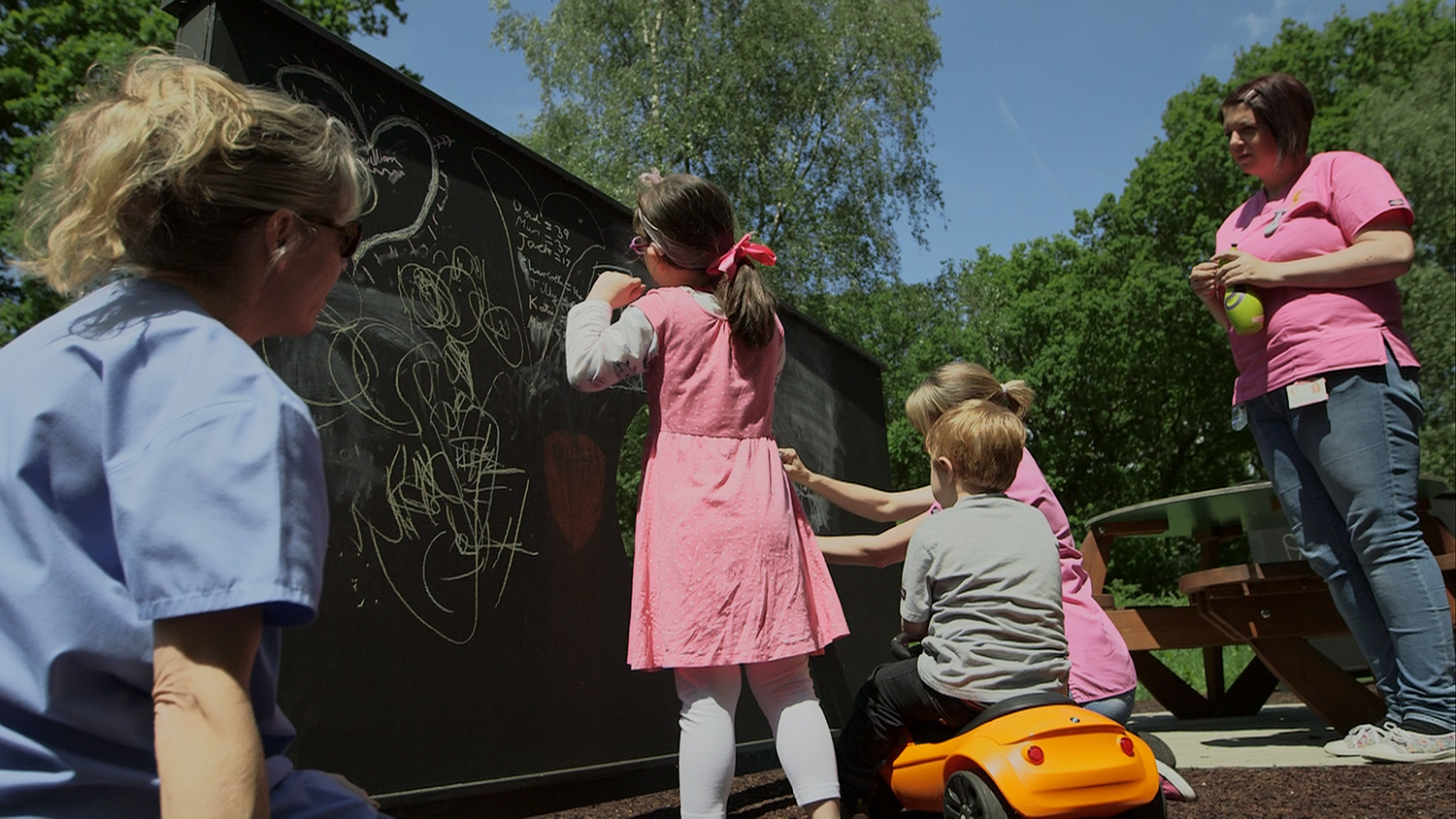 View more images
Butterwick House children's hospice, Stockton on Tees
At the Butterwick House Children's Hospice, we were able to greatly improve the outdoor space available to the children. The renovated garden incorporates a water feature, vegetable beds and new softer, sensory planting plus a ground level trampoline for play.
Derian House children's hospice, Lancashire
Here we built a much-needed chill out space for the teenage children who use the Derian House Children's Hospice within a lovely shaded wooded area.
Donna Louise children's hospice, Stoke on Trent
At Donna Louise, we created an interactive play garden with a giant dragon planter and many other interactive sensory features for all children to enjoy.
Shooting Star House children's hospice, Hampton
The Shooting Star Chase Children's Hospice received a re-design from us.
Robin House children's hospice, Balloch, Scotland
At the Robin House Hospice we created four separate garden areas: play garden, family area, bereavement garden and a sensory space. The centrepiece to the play garden was this fantastic pirate boat which the children love playing in.
For a complete list of other finished Greenfingers gardens please click here
For further information about any of our gardens please email info@greenfingerscharity.org.uk