What's On?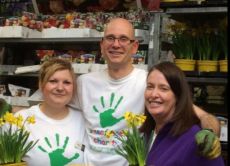 Companies across the country held their own FUNdraising events for Garden Re-Leaf Day in March From Plantathons to tombolas to curry nights, all those taking part raised vital funds to help make a real difference for life-limited children and their families who spend time in hospices across the UK.
Here's a taster of what happened across the country...
Plantathons
Klondyke Garden Centres - Byrkley Park, Houghton Hall, Stokesley, Lady Green, Garforth and Wilmslow Garden Centres
Squire's Garden Centres - Woking Centre
Hillview Garden Stores - Billing, Burford House, Charlecote, Hilltop, Little Heath, Newton Regis, Pavilion, Scotland Nurseries, Shipley, Studley and Studley Green. Each of the Hillview stores be participating in a Plantathon where staff will plant 101 spring containers and then the race will be on to see which store can sell them the fastest, with sales going to Greenfingers.
Events
Millbrook Garden Centre - Gravesend, Crowborough and Staplehurst: Face painting, crafts, special Springtime animal guests, a Char-i-Tea morning, planting demonstrations and a talk by their Managing Director, Tammy Woodhouse.
The Old Railway Garden Centre, Perrywood Garden Centre & Poplars Garden Centre: held Quiz & Curry Nights
Whitehall Garden Centres: Donated £1 from every coffee and cake sold in their restaurant on the day.
Haskins Garden Centres: Raffled a hamper full of gardening goodies over the Garden Re-Leaf weekend in their Ferndown, Snowhill and West End stores.
Aylett Nurseries: held a coffee morning and tombola for customers.
Bents Garden and Home: held a charity planting workshop where customers could create their very own planted teacup, with proceeds going to Greenfingers Charity in celebration of Garden Re-Leaf Day.
Altons Garden Centre: held a Garden Re-Leaf Charity Quiz night with variety of entertaining activities including a full Buffet, Raffle and special offers in store on the night.
Tates Garden Centres - Paradise Park: Held a Garden Quiz for local gardening clubs, an auction of flower arrangements made by a local floristry group and sold special Garden Re-Leaf Day cupcakes in the coffee shop.
Downtown Garden Centre: held a Garden Centre Cake Bake and Quiz
Scotsdales Nursery and Garden Centre: are holding a Ladies Charity Night in April - An evening of charity, fizz, tastings and live music at their Great Shelford Store.
Staff at Longacres Garden Centres took part in a sponsored walk starting at Shepperton and finishing at Bagshot with a pit stop at their Chobham branch. A host of other activities also took place in their Bagshot store as they welcomed the walkers back after their 20 mile walk.
Orchard Park Garden Centre: Walk from Lakeside Garden Centre to Orchard Park Garden Centre and a £100 raffle instore
Mr Fothergill's Seeds fielded walkers and cylcists and also held a Cake Sale in the office.
AHS Ltd: held fundraising events in the office.
The Association of Professional Landscapers raised funds at their Annual Awards Lunch
Hozelock - Sponsored 10km walk through the beautiful surroundings of Sutton Park, a national nature reserve close to their Birmingham site.
Kew Green Hotels - Holiday Inn Colchester - Staff will be "Going Green for Greenfingers" - £2 donation to dress in green.
Kew Green Hotels - Holiday Inn Leeds/Brighouse - Staff and members at the Holiday Inn Leeds Brighouse will bedoing a 12 hour Bikathon from 8am - 8pm.
Pondkeeper held a a raffle in their Billingham based shop.
Rolawn donated £5 for every bulk bag of Rolawn Beds & Borders Topsoil purchased at Rolawn Direct between Friday 16th and midnight on Thursday 22nd March.
Outback donated a BBQ for the raffle at Garden Re-Leaf Day Walk
Garden Innovations - A new 'Charity Pack' of their Best Selling Bottle Top Waterers. Inspired by the fun and bright colours and positive outlook of the Greenfingers Charity, Garden Innovations will make a donation of 37p per Bottle Top Waterer charity pack sold (SRP £2.90) The Award Winning easy-to-use alternative to Watering Cans come in Counter Display Units which put the product in prime areas for maximum visual impact. We also provide euro-hook hanging strips to display the product in areas of high footfall.