Garden Re-Leaf
GARDEN RE-LEAF DAY – FRIDAY 22ND MARCH 2019
Garden Re-Leaf Day is Greenfinger Charity's national fundraising event and it's held every year. It is now a major feature in the horticultural and garden industry's calendar with garden centres, growers, suppliers, QVC, trade associations, gardening clubs and societies, as well as our corporate partners and many, many others getting involved to support this event and raise funds for Greenfingers Charity.
Since Garden Re-Leaf Day started, we have seen sports events including our Great Garden Re-Leaf Day Walk and Cycle Challenge, quiz nights in garden centres, cake baking, sponsored walks, school activities, QVC fundraising, Plantathons and much much more taking place right across the country. You can see some of the ways to get involved on our Fundraising Ideas page.
Garden Re-Leaf raised over £70,000 in 2018, taking the total to £600,000 since its inception back in 2012.
For further information about Garden Re-Leaf Day and some ways in which you can get involved, why not download a Garden Re-Leaf Day 2019 Fundraising Pack full of ideas here.
***The route maps for the 2019 Walks and Cycle Challenge are ready***
Cycle Challenge (note: if you're doing 100 miles, it's 4 x this circuit!)
Cyclists: Here's the link to the route on Strava,
REGISTER NOW!
Click on the images below to register your event or participation in the Garden Re-Leaf Walk and Cycle Challenge through the Chilterns.

Here are just some of the events planned for Garden Re-Leaf Day 2019...
This year's Garden Re-Leaf Day is now just a few days away! It's set to be a blooming great success thanks to the huge support from the garden industry and the tireless enthusiasm of all those who are participating in events and promotions all over the UK. Here's what's going on:
Altons Garden Centre – Are holding a Quiz

Aylett Nurseries, St Albans – Will be holding a Goodwill Coffee Morning in the Dahlia Coffee House and a Tombola on 22nd March

Blue Diamond – Will be donating money from a special Greenfingers Charity 'Friends' Rose on Garden Re-Leaf Day

Coolings Nurseries – Behind-the-scenes Nursery Tour, FREE with a donation, at 11am on 22nd March, plus donations from a plant sold on the day

CW Groves Nurseries – Are holding a Coffee Morning, plus a Gardeners Question Time event at Ivy House on Thursday 21st March at 6.30pm

Garden Store/Hillview Garden Centres – Are 'Going Green for Greenfingers'

Haskins Garden Centres – Raffles running 15-24th March at Ferndown, Roundstone, Snowhill and West End Garden Centres

Holiday Inn Chester South – A team from the YouFit Health Club will be climbing Mount Snowdon on 22nd March

Klondyke and Strikes Garden Centres – Will be donating £1 from every planter sold, plus 50p from every coffee or tea sold on 22nd March

Norton Park Hotel – Are holding a Summer Fete in the hotel grounds on 27th May, with all donations going to Greenfingers Charity

Longacres Garden Centre – Are holding a Sponsored Static Cyclotron in the Bagshot Branch as well as an ever-popular Raffle

The Old Railway Line – Are holding a Curry and Quiz Night, 22nd March, 6-9pm, you can buy tickets here

Paradise Park Garden Centre – Are holding a Gardening Quiz and lots of other fun activities

Perrywood Garden Centre – Are holding a Quiz Night *SOLD OUT*

Poplars Garden Centre – Are Having a Curry and Quiz Night, plus a Raffle on 22nd March, find out more here

Rowan Garden Centre – Are holding a Charity Fundraising Walk on 23rd March

Rolawn Limited – Are hosting various events including a Mucky Dip and a Cake Sale, from 10.30-4pm on 22nd March

Squires Garden Centres – Will be hosting a Create and Grow Mother's Day Planting Weekend from Friday 29th to Sunday 31st March at all centres except Chertsey, between 9:30am-3:30pm (10.30am on Sunday)

Stihl – Are holding a BBQ and a car wash on 2nd April

Sunshine Garden Centre – Will be holding a range of Muddy Boots Gang Children's Activities on Saturdays in March. Each session costs £5 which will be donated directly to Greenfingers Charity. You can buy tickets here

Thurrock Garden Centre – Are holding a Raffle, plus hosting a number of free Children's Activities on 22nd March, where people can donate to Greenfingers Charity

Whitehall Garden Centres – On Friday 22nd March they will be donating £1.00 from every hot drink and cupcake sold in their restaurants. They will also be holding a raffle from which all proceeds will be donated to Greenfingers Charity

And here's what happened on Garden Re-Leaf Day 2018...
The Garden Re-Leaf Walk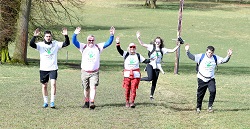 Over 70 people from garden retailers, suppliers and manufacturers walked a sponsored 10 or 20-mile circuit through the Buckinghamshire countryside starting and ending at World's End Garden Centre in Wendover.
Teams from Vitax, DLF Johnsons Lawn Seed, Woodlodge, Elho, Mr Fothergill's, Glee, Hornby Whitefoot PR, GIMA, Briers, HTA, Cadix and Kew Green Hotels donned their walking boots to raise money. A special shout out must go to the charity's Vice Chairman Dennis Espley who was the first to cross the finish line following his 10-mile walk.

The Garden Re-Leaf Cycle Challenge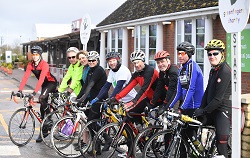 The Garden Re-Leaf Cycle Challenge saw 15 intrepid bike enthusiasts taking on the endurance test of 50 or 100 miles.
Teams from Taylors Bulbs, Mr Fothergill's, Hozelock, Briers, Poplars Garden Centre, Durston Garden Products, and Elho all saddled up to take on the gruelling course for to raise vital funds for Greenfingers.
Matt Jackson from Mr Fothergill's was first across the finish line having completed the 100 miles route.
12-Hour Plantathons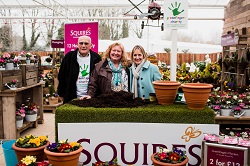 Garden Re-Leaf founder Boyd Douglas-Davies set all 11 of his Hillview stores a challenge for this year's Plantathon – to plant 101 plants in 12 hours. Totalling an impressive 1,111 pots, £1 from every planter sold went to Greenfingers
The staff at Squire's Garden Centres in Woking also got their hands dirty, potting over 500 lovely, bright and cheerful spring plants for Garden Re-Leaf, at their opening weekend. There was also a guest appearance by gardening expert and presenter Charlie Dimmock who helped to plant her own containers in aid of Greenfingers.
Bob Hewitt's Klondyke centres held 12-hour Plantathons in six of their stores, sales of potted containers donated to Greenfingers.
A QVC Garden Re-Leaf Show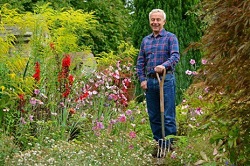 A special QVC Gardening Show was broadcast on the popular shopping channel on Sunday 18 March.
It raised a staggering £31,800 from the sales of plants, bulbs and garden sundries.
Richard Jackson presented the programme with the help from many generous suppliers: De Jager Bulbs, Hayloft Plants, Plants2Gardens, Mont Rose of Guernsey, Thompson & Morgan and Richard Jackson's Garden.
Garden Centre Events
Quizzes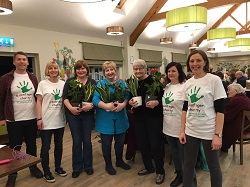 Many garden centres got quizzical for Garden Re-Leaf Day, with masterminds at Perrywood Garden Centre and Poplars Garden Centre each raising over £1,600, whilst all monies from the general knowledge experts at Altons Garden Centre totalled £450.
Tates Paradise Park held a garden quiz for local gardening clubs, as well as an auction of flower arrangements made by a local floristry group, plus a sale of special Garden Re-Leaf Day cupcakes in the coffee shop.
Old Railway Garden Centre raised a spectacular £1,000 for Greenfingers during their Garden Re-Leaf Fundraising Day, which included a Quiz and Curry Night.
Cake Sales, Coffee Mornings and Raffles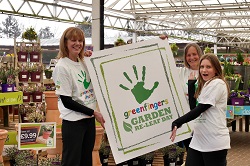 Cake Sales,Coffee Mornings and Raffles proved a popular Garden Re-Leaf FUNdraiser. Whitehall Garden Centres donated £1 from every hot drink and cupcake sold in their restaurants. The staff at Mr Fothergill's head office baked green cakes to sell, meanwhile Haskins Garden Centres held staff cake sales at their stores. Downtown Garden Centre and A.H.S Ltd also produced their best bakes to raise money for Greenfingers.
Pondkeeper held a raffle in their Billingham-based shop to win pond-planting goodies. Aylett's Nurseries held a tombola and coffee morning in store.
Sponsored Walks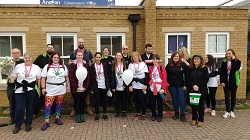 Regional sponsored walks were organised for those who couldn't get to Wendover.
Orchard Park staff walked approximately 15 miles to Lakeside Garden Centre in Warminster. The Hozelock team completed a sponsored 10km walk through the beautiful surroundings of Sutton Park, a national nature reserve close to their Birmingham site. And Longacres held a sponsored walk which started at the Garden Centre in Shepperton and finished at Bagshot, with a pit stop at their Chobham branch.
Kew Green Hotels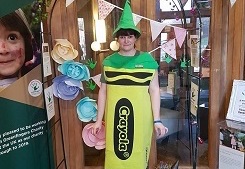 Kew Green Hotels put the FUN into fundraising by 'Going Green for Greenfingers', with staff turning their hotels green across the country.
Many competed for the coveted 'Best Costume' prize, which was won by Emma Harding for her brilliant Crayola outfit.
Other branches held raffles, cake sales and had donation buckets in public areas. Staff and members at the Holiday Inn Leeds Brighouse completed an epic 12-hour Bikeathon.