Brighton Half Marathon
Date: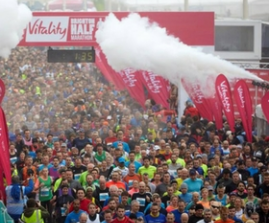 Calling all running enthusiasts! Register now to take part in the spectaular 2018 Brighton Half Marathon, one of the first major half marathons in the running calendar, in support of Greenfingers Charity.
Held on Sunday 25th February 2018, the #BrightonHalf boasts a beautiful sea front course, flat route (great for ankles!) and brilliant atmosphere.
By running for Greenfingers you'll be helping us create magical gardens across the UK for children, and their families, who are spending time in a hospice. If you're ready to take on the challenge, book a place on the Brighton Half Marathon website and then contact our friendly fundraising team on info@greenfingerscharity.org.uk or 01494 674749. You can also download a Greenfingers Charity Sponsorshop form here.
Seafront course
Flat route (great for ankles!)
Excellent atmosphere
One of the first major events in the running calendar