Plantation Road Garden Tea Party, Oxford
Date: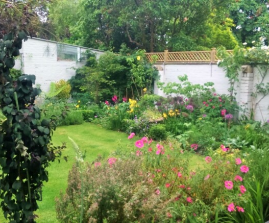 This summer Greenfingers Charity is celebrating a great English tradition by launching the Greenfingers Garden Tea Party. Our first garden party of the spring season, kindly hosted by Philippa Scoones and Toby Buxton, is on Monday 1st May in Oxford, and we'd love for you to come.
Join like-minded gardeners as you explore the secret townhouse garden at 50 Plantation Road, Oxford, OX2 6JE, 3.30pm – 6.30pm.
The large garden has been designed as a series of 'rooms'. Borders are bursting with brightly coloured tulips and guests are invited to wander across the lawn towards a central terraced area, where you will find raised beds and a conservatory. A water garden with a 'rill' style water feature, woodland plants and alpines complete this surprisingly spacious city space.
To buy a £12 ticket, please email teaparty@greenfingers.org.uk
During the afternoon there will be informal tours and time to talk to the garden owners about how they created their garden. Enjoy a cup of tea, coffee or glass of wine with cakes and canapes whilst you sit and relax in this tranquil city oasis. There will also be the chance to purchase homegrown flowers from the cutting garden to take home.
Tickets are £12 each with all proceeds going directly to Greenfingers Charity, helping to plan, design and create more magical gardens for life-limited children and families who spend time in hospices across the UK.
If you are interested in coming along, would like to buy a ticket or make an enquiry, please email teaparty@greenfingers.org.uk or telephone 01494 674749.