Midsummer Garden Party, with Ann-Marie Powell
Date: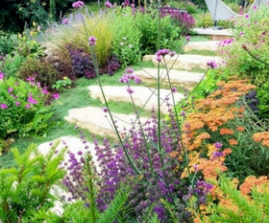 You are invited to enjoy an exclusive Midsummer Garden Party, hosted by Mr and Mrs Sherling, at Shepherd's Cottage, Milberry Lane, Stoughton, PO18 9JJ, on Wednesday 21st June, from 7pm- 9pm.
Award-winning garden designer, and Greenfingers Charity Patron, Ann-Marie Powell will give an exclusive tour of this beautiful garden, uncovering the design concepts that led to the creation of such a stunning outdoor space.
"This contemporary cottage garden certainly makes the most of the borrowed landscape of Kingly Vale in the South Downs. Magnificent planting schemes on various levels lead down hewn Purbeck steps to a small orchard, under-planted with chalk-loving meadow. Lawns, yew hedges, ilex balls and drifts of wind grass provide structure and year round interest."
Tickets are limited and cost £45, with all proceeds going directly to Greenfingers Charity to help create magical gardens for children and families who spend time in a hospice.
To book your tickets, please email Linda@greenfingerscharity.org.uk or call 01494 674749.
Recently visited by Alan Titchmarsh, the garden is scheduled to feature in ITV's "Love Your Garden" show in July.